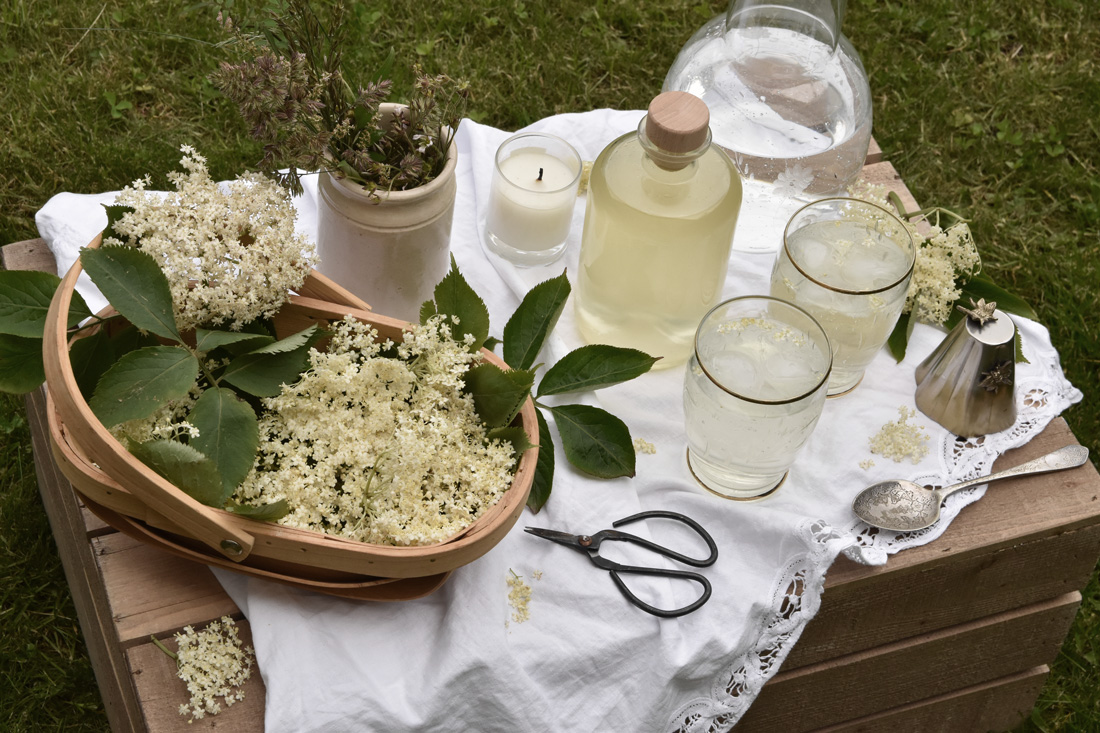 Elderflower is a sure sign of British Summertime and there's nothing much lovelier than seeing it blooming amongst the hedgerows in June and July. Its little flowers are creamy, delicate and excellent when harvested and turned into cordial which can be used in baking, soft drinks and cocktails. It flowers in mass volume so only makes sense to fill your baskets and take full advantage when the season is here! Below I've shared my guide for elderflower foraging and a simple recipe for Elderflower Cordial which will see you through the Summer. It makes such a wonderful annual tradition and is an excellent excuse to get out into the countryside!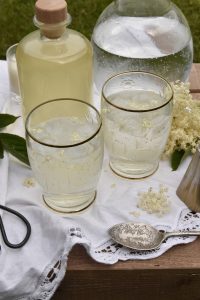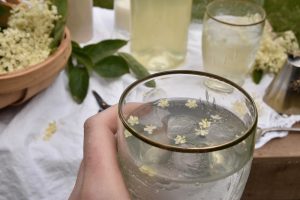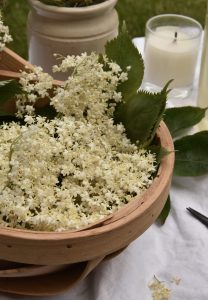 Identifying an Elder Tree 
Once you know how and can identify it, elderflower foraging is so simple and you will be coming back year after year for another haul! Elderflowers are found on the Elder Tree which contrary to its name grows like a bush so will have foliage all the way to the ground growing just like a bush. The bushes usually grow as tall as large trees, like the one seen in the picture below which is taller than all the bushes around it. The Elder Tree then has many more branches from the bottom to the top which bear an abundance of leaves and clusters of flowers from the ground right the way up to the top.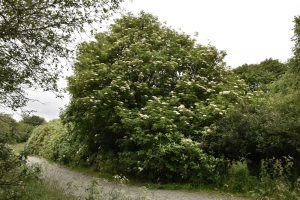 Elderflower Leaves 
Elderflower leaves grow multiple times along each branch and there usually five leaves per stem growing opposite each other with one single leaf at the tip and a stem at either side of one flower cluster. If you look very closely you will see that elderflower leaves have a serrated edge and are a long thinner leaf shape as opposed to something rounder. They are a vibrant mid green shade and are usually found about an inch below the flower head in a pair, one symmetrically at each side.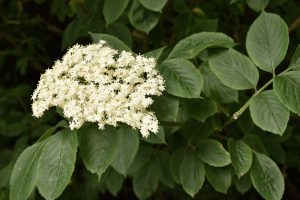 The Flowers
The elderflower flowers grow in large clusters of tiny creamy white flowers. They come into bloom in June and can last right through to the end of July. The flower clusters are flat at the top and consist of smaller clusters on various stems which all meet at the top to form the larger flower cluster. They start out as a cluster of tiny tight green round buds which turn into yellow/cream buds before flowering. As they start to bloom you may see some still in bud on a cluster of freshly opened flowers which are great for foraging as you know they are the newest to have opened. Each tiny flower has five petals, five little pollen tipped stems between the petals and is the same creamy white as the petals in the centre. The flower clusters will have a delicate, creamy scent when newly opened which is the ones you want to pick. Never eat something foraged if you aren't sure and always use a photo for reference.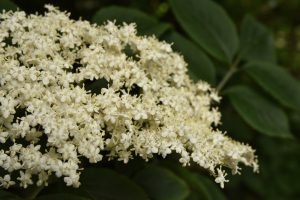 Picking The Elderflowers 
When elderflower foraging you're looking for the freshest and most newly opened elderflowers as possible to pick. Give each flower cluster a sniff before you pick it and if they smell creamy, floral and pleasant and may still have a few unopened buds it means they are fresh and will taste the nicest. If a flower cluster smells a bit stale or potent it means they have been opened for longer so you want to avoid these ones and pick as freshly bloomed as possible. Always aim for flower clusters higher up on the tree where dogs can't reach and cut the stems just below the flower cluster as the little flowers are the bit that will be used. Elderflowers are best picked in the morning when their aroma is strongest and once picked used as soon as possible so they keep their scent and don't wilt. Baskets are best for foraging flowers so they don't get squashed on the way home!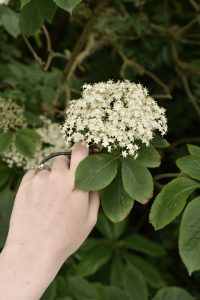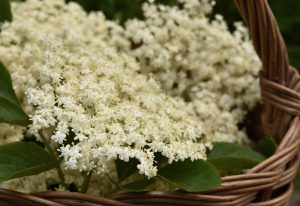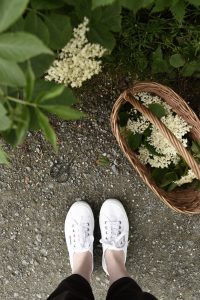 Elderflower Cordial Recipe
Elderflower is so simple to make and has so many delicious uses that will see you right through the Summer. It is a concentrate which is ready to be diluted with sparkling water as an elderflower soft drink, added to champagne, prosecco and cocktails and my personal favourite, baking! Used as a syrup on sponge cakes, added to cream for your strawberries or used in any summer dessert, the possibilities are endless when it comes to baking with elderflower cordial!
You will need:
16 freshly picked elderflower clusters, stalks removed
1kg granulated sugar
two large unwaxed lemons
1 litre of freshly boiled water
Step 1. Squeeze the juice and grate the zest from the lemons and set aside.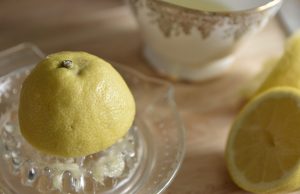 Step 2. Place the sugar in a large pan and add the freshly boiled water. Stir for a few minutes until all of the sugar is completely dissolved.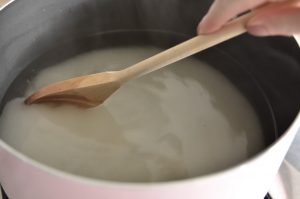 Step 3. Add the lemon juice, zest and the leftover pieces of lemon into the sugared water and give a gentle stir. Gently rinse your elderflowers under the tap, shake off excess water, remove stalks and add into the cordial mixture. Give a good stir until everything is mixed well and leave to soak with a lid on the pan for 24 hours, mixing with a wooden spoon morning and night.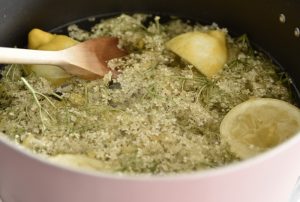 Step 4. Once your mixture has sat for 24 hours it will be beautifully infused, smelling sweet and ready to strain!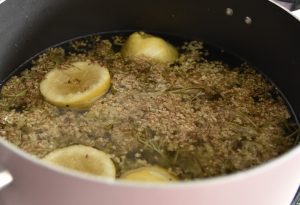 Step 5. Place a muslin cloth over a fine sieve and very slowly and carefully use a ladle to pour the cordial through the cloth into a clean pan to separate the juice from the flowers. Discard of the flower and lemon mix and bottle up your extracted cordial. You can recycle gin bottles to be repurposed for cordial, just wash and steep them in boiling water to sterilise them beforehand!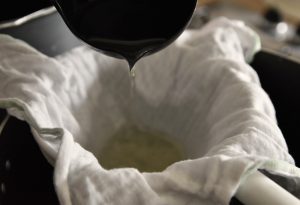 Elderflower cordial makes a lovely Summer gift to take round to barbecues and gatherings all season long and will keep in the fridge for six weeks. Dilute it six parts to one with sparkling water for fresh elderflower presse! It can be kept for even longer frozen in ice cube trays too. Try baking with it in my Strawberry, Elderflower and White Chocolate Blondies or Lemon and Elderflower Gin Cake by simply replacing the liqueur with the cordial!
I bet you won't have to go far to find some elderflowers, so grab a basket and get elderflower foraging!
Hollie x