Allotment Diaries: April 2020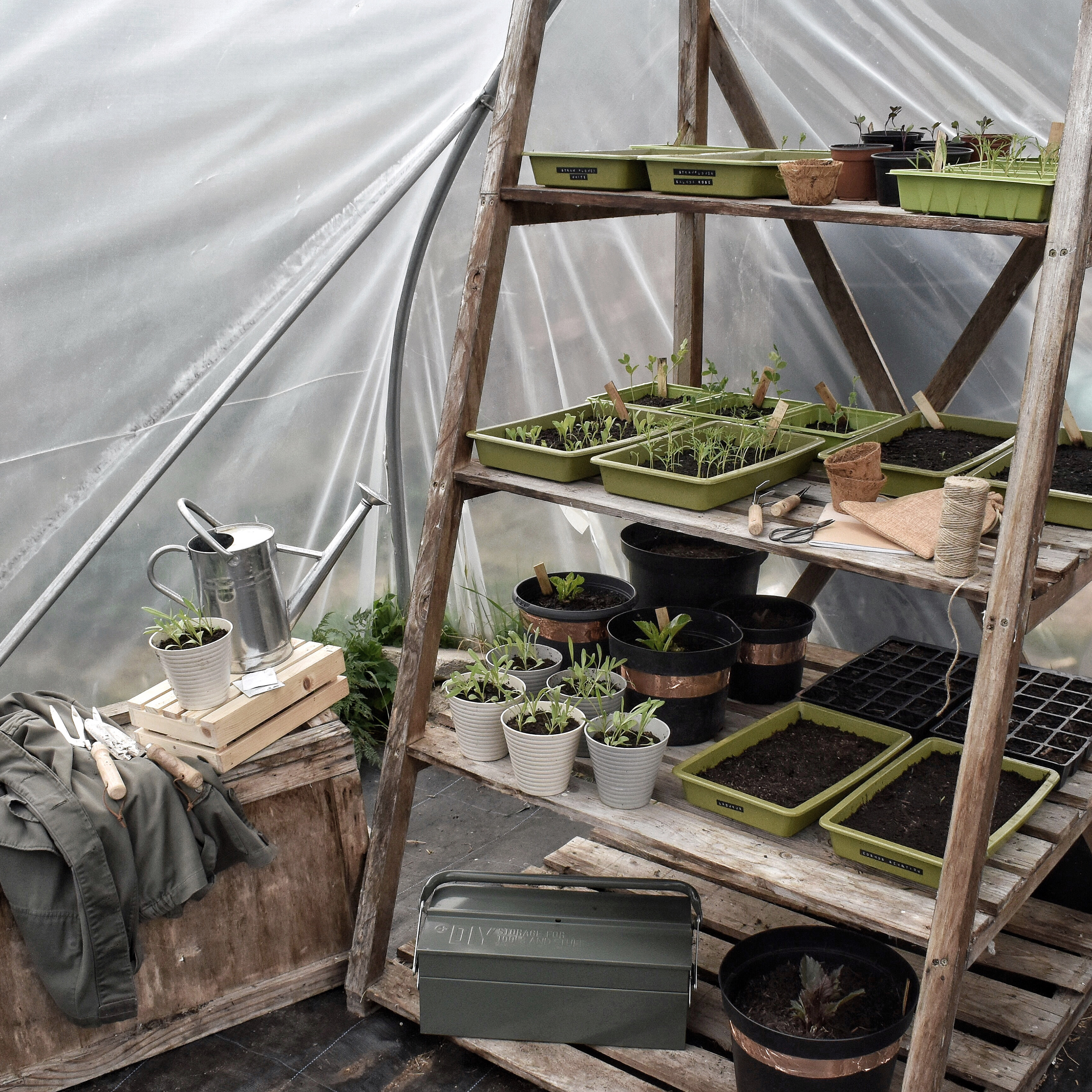 I can't believe we're already coming to the end of April and it's been one more month of allotment fun! This month the allotment has been the perfect escape and with more time than before I've been going there every other day, even if only just for a few hours, and it has been absolutely blissful. College broke up for two weeks of Easter holidays and although we haven't been there physically we've still had lots of coursework to be getting on with which has been keeping me very busy. So with two weeks off, holiday plans cancelled and no where else to go I spent more time than ever at the allotment getting on with my seed sowing and working on the plot!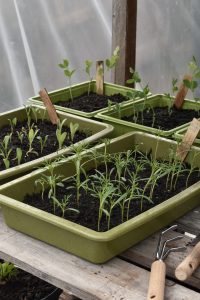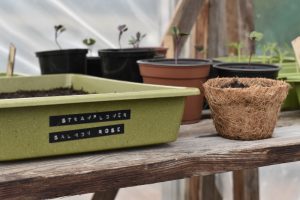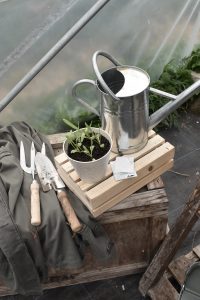 The plot is really starting to take shape now and with the help of my handy husband we have managed to get three of the beds now complete, all of the ground cleared and all of the wood chip paths down! The bed along the bottom that I cleared from overgrown raspberry canes last month is now complete and ready for compost, and the raised bed at the end of my plot is also ready with the ground around it all lined and wood chipped too! It really is amazing the difference the wood chip makes, as soon as it's down it brings everything together and makes the allotment look so neat and just finishes it off beautifully! We are so almost there with the raised beds, with just two left to go. We have the reclaimed wood waiting for us we just can't collect it yet due to lockdown, but Mr Stin cleared the ground, dug the trenches and marked them out with some of the old wood that was lying around so as soon as we can collect the wood it will be all systems go to get them up!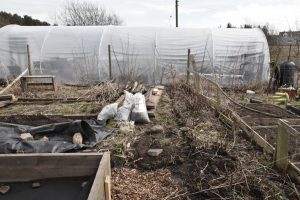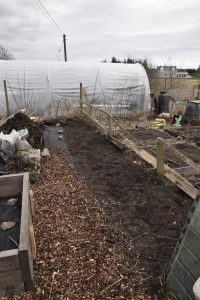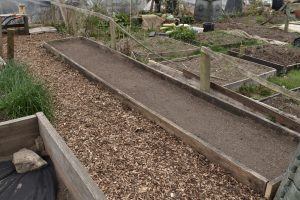 The plot looks so much bigger now that we've got the beds ready and the wood chip down and it's been so exciting for me to see it like this and really get planning my planting and where everything is going to go. I've got the first bed marked out for all my Cosmos, the second one for my strawflowers, cornflowers, marigolds and the likes and I think I've decided on the third for the Dahlias as they like a bit of protection so will be safer tucked in a little! The fourth bed is going to be mainly for my vegetables and I've not decided what to put in the long bed yet, but I'm thinking a pumpkin patch on one half and Sweet Peas on the other! I'm growing two lovely variates of Nasturtium in peachy pink colours which I'm going to build an arched frame for and I also have sunset coloured Sunflowers which I'm going to dot around the plot. When all my raised beds are up I'm going to build small square planters in between them with the leftover bits of wood to maximise the planting space. I have some grasses and foliages which I plan to fill these with for using in my flower arrangements! I made the fourth bed in the plot a little shorter in size so that I would have extra space in the corner and I haven't quite decided what to put there yet – maybe a potting shed, table or greenhouse.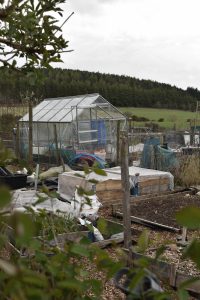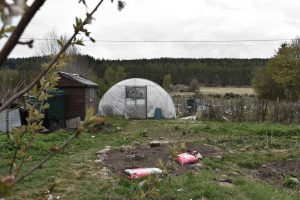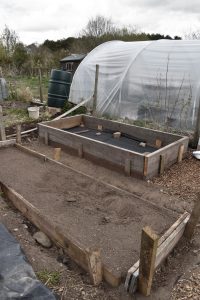 This month lots of my seedlings that I sowed previously have been ready for thinning out and potting on which has been a job that I've loved doing! There are hundreds of plastic pots in every size you could ever imagine completely filling one of the communal allotment sheds so I was delighted that I could recycle lots of them and put them to very good use. I had also picked up some bamboo pots to give them a try and they have been great for potting on too, so I highly recommend going for them if you need to invest in some as oppose to buying plastic ones. The Cosmos came up so fast with a brilliant success rate so they have been potted on as well as my white Cornflowers, Sunset Buff Marigolds, Sweet Peas and my Red Sprouts and Peppers on the veggie front. Once the seedlings have been potted on I sit them in a tray of water for half an hour or so, that way they can drink from the bottom up to avoid over soaking them and protecting their delicate leaves.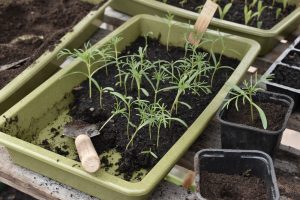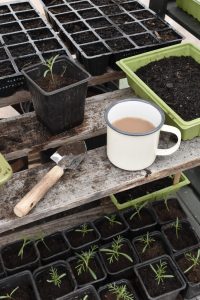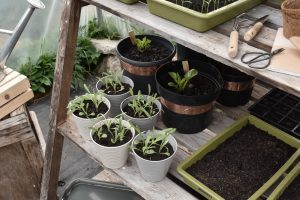 In the polytunnel I've had another busy month of sowing, with seed trays being filled up again as soon as they were potted on from! I've sown some grasses, bunny tails, Amaranthus, Strawflowers in peaches and white, Nasturtiums in salmon and pink, peachy sunset Sunflowers, some Biennials such as Honesty, Teasel and Foxgloves and veggies upon veggies upon veggies! Sunflowers and poppies can be planted straight into the ground at this time of year, although I've started mines in the polytunnel three to a pot and about an inch deep as my plot isn't quite ready for them. I'll hopefully be ready to transplant them and sow my poppies straight out in the next few weeks! The Dahlias are really loving the heat in there with all this lovely sunshine we've been having and are coming up thick and fast. Every time I visit they seem to be more and more leafy, but they are not quite ready for pinching out and cutting from yet.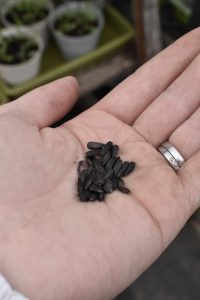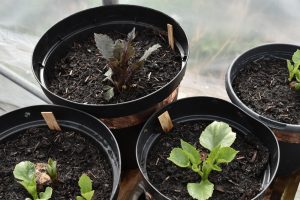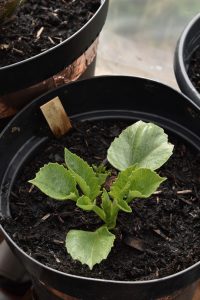 The blossom has appeared so beautifully in the allotments communal fruit orchard which is such a lovely part of it. I can't wait to see what fruit is going to appear and I really can't wait to bake with it! I also found out this month that there is a shared patch which is currently bursting with rhubarb, can you imagine my delight!! My new allotment friend told me all about and insisted I helped myself, so I filled a basket and skipped home swinging it while deciding what to bake! I turned it into a rhubarb cake and it was absolutely delicious, so keep an eye out for the recipe soon! Me and Mr Stin headed down to the allotments very own stream, and loveliest ever water supply, and had a tea and cake picnic rewarding us for a days manual labour.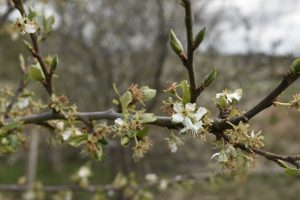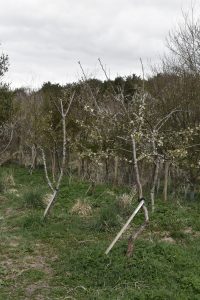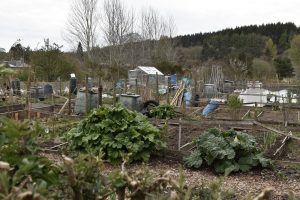 April has been such an exciting one at the allotment as it really feels like I can now see so much progress from just a few months ago where I had an overgrown plot and not one single leaf, to having a space almost ready for planting and a polytunnel thriving with pots and trays full of lush green seedlings and plant babies galore!! I am waiting for a big delivery of organic and peat free compost from my favourites at Dalefoot Composts to fill my beds with and then I can start planting and get some of these flowers in the ground which is going to be one very happy day!!
Hollie x