Allotment Diaries: March 2020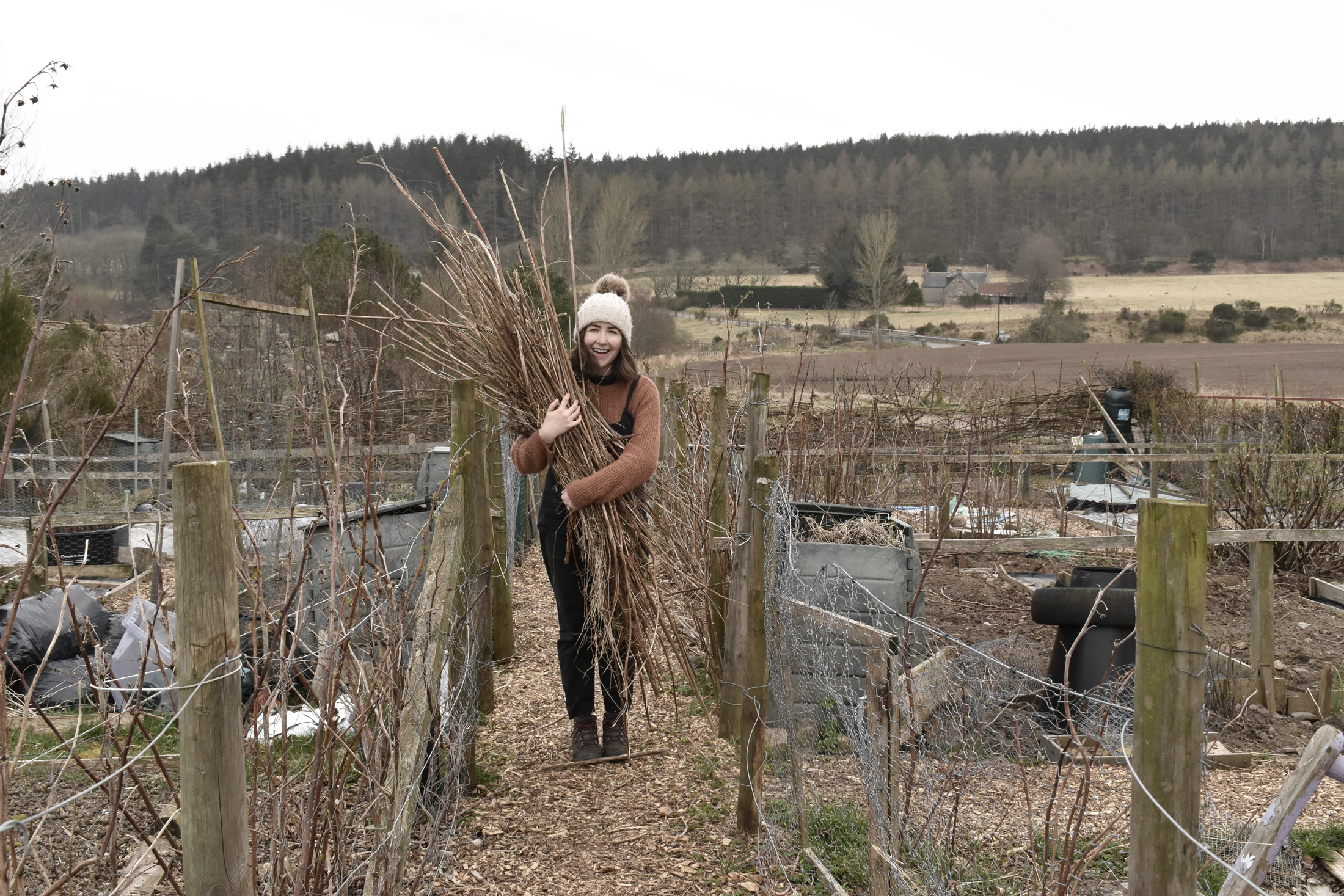 Well it goes without saying that a lot has changed in the last month since my first Allotment Diary, and I'm not just referring to the allotment. As the world around is in crisis, nature continues on and the seedlings begin to sprout. Sowing and growing is a very happy distraction at this time more than ever, and I can't even put into words how valuable having my little allotment to escape to has been over the past few weeks. As the country is in lockdown, the government have okayed trips to the allotment as daily exercise which I am eternally grateful for. As it is a very small group allotments with only ten plots, there is rarely anyone else there which also makes it a safe space where I can work alone. That being said, I am being mindful of leaving my house as little as possible so in the past few weeks have visited the allotment a lot less but have still managed to make great progress with the plot.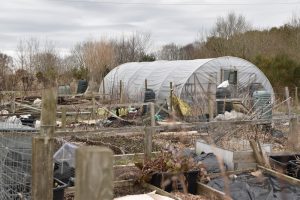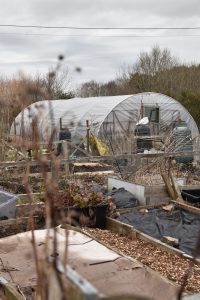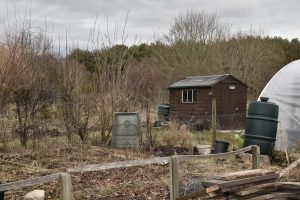 I have managed to tackle some major jobs and it has been exciting to see the plot starting to take shape before my eyes. First on the job list for March was cutting down and removing those over grown raspberry canes! They had completely over run the large bed which runs the length of the plot, and were overgrown at the bed the width of the plot too. Cutting them back was no mean feat, an entire days shift for me and my secateurs with face scratches a plenty in the process. As soon as they were chopped instantly the plot looked bigger and the difference being able to see all that ground made was quite incredible. My plan was to keep the cut back ones at the side and remove the ones in the bed to make way for flowers so the next day I went to the allotment I got started on removing them. There was another full shift in that, tackling tough old root systems that were taller than me! What a relief it was to pull out the very last one and a have a well earned cuppa! I then removed all the weeds and bits of turf and the old overgrown bed is now a cleared piece of ground.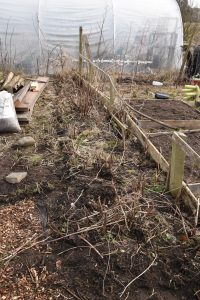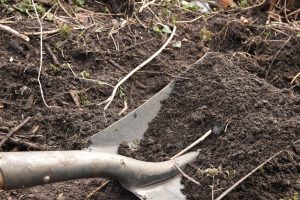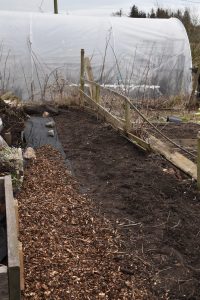 Since we made the first raised bed last month, I made a start on the pathways on my plot. I used an eco friendly fabric lining to line the section of path entering the plot and around the first bed. I then added wood chip by the wheelbarrow in a nice thick layer on top of the fabric lining to create the paths. A good ten wheelbarrows of wood chip later and the difference was unbelievable! It immediately made the whole section look neater and it actually started to look like it was all coming together! That was all I could really do alone on the plot as the next job is making the second bed, which I need the help of my handy husband for and he just hasn't had the chance. But I could sow seeds until my little heart was content, which is exactly what I done!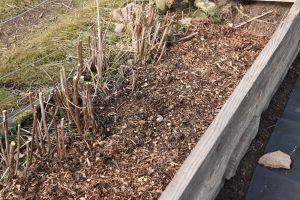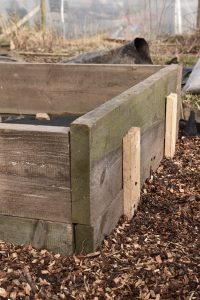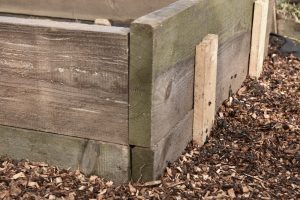 The weather throughout March was pretty good on the whole, with lots of batches of sunshine making for a very toasty polytunnel. Excellent for germination meaning my little seeds have started to sprout! My early March sowings of Sweet Peas, Cornflowers and Phlox have germinated on the whole very successfully and seeing them starting to sprout is such a rewarding feeling! I only just sowed the first batch of Cosmos on Monday, and already they have popped right through the soil which is some really impressive speed! I found that the paper seed trays were drying out much quicker than the bamboo trays, so shopped around for some more and invested in a big bunch of these Haxnicks Bamboo Seed Trays which are so much stronger and sturdier than any plastic free ones that I've tried and I cannot recommend them enough! A little pricier than some but they are much sturdier than any plastic ones and I know I'll have them for a very long time, so are well worth the investment.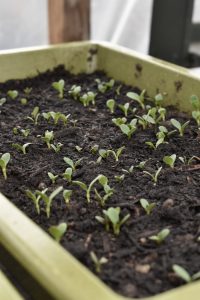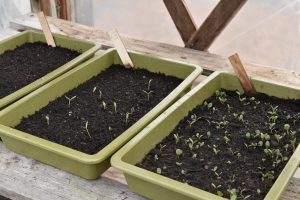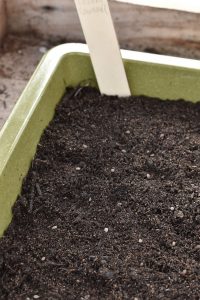 This past month I've been sowing lots more lovely seeds as March is really the time it starts to get busy for the year ahead! I've sown Pot Marigolds, Cosmos in three different varieties, Amaranthus, more Cornflowers and have just sown a second batch of Phlox in two lovely variates for staggered picking. For the vegetable bed I've sown tomatoes in five varieties from chocolate stripe to green zebra, peppers, golden beetroots and red sprouts! It's not too late to sow any of the above, so you've still got the whole of April to get started if you fancy it! Over the next month I'll be ramping up the sowing and will be starting Strawflowers, Poppies, Helianthus and Nasturtiums as well as some lovely grasses. I've gone for more unusual varieties and less common colours with all my flower seeds so am really excited to see them come into play! I'm also going be sowing more vegetable and herb seeds for the veggie patch.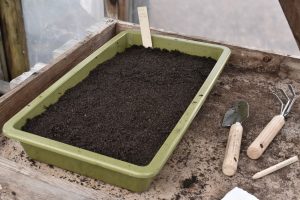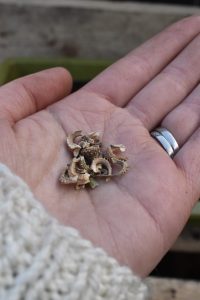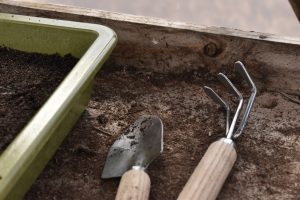 In the polytunnel I also potted up my dahlias, of which I have five variates to trial this year and am incredibly excited about! It's still quite cold at night here so I'll be keeping them cosy in the tunnel until much later on in the month when the danger of any frost at all has passed. Potting up dahlias couldn't be much simpler – Pot them up each in a three litre pot with plenty of space for growing strong healthy plants, copper taping each pot to deter any slugs. Each tuber is then placed inside and covered with soil just in no more, as you don't want them too deep at all. Give them a good soak and keep them cosy until it's warm enough outside for you to plant them into the ground, and that's it! I used potting compost from the brilliant Dalefoot Compost which is where I get all of my organic and peat free compost for seeds and vegetables too. Earlier in the month I potted up Ranunculus in the same way but with grit mixed through the potting soil for drainage.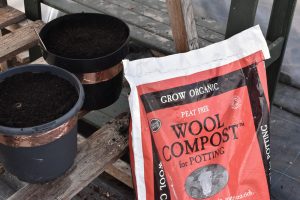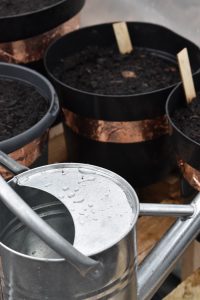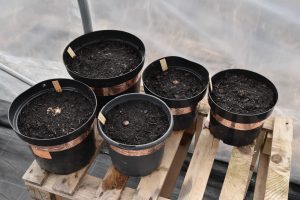 Seeing the transformation and the allotment actually starting to come together is so exciting and rewarding, especially on the days when I've done the hard work all by myself! I would like to start clearing the rest of the ground on the plot, making way for the next flower beds and hopefully the Sweet Peas will be ready to plant into the first raised bed shortly. I hope we do get a chance to start working on the next raised beds soon, but until then you will more than likely find me in the polytunnel sowing my days away. Allotment days are just my absolute favourite and at the end of a days work I love nothing more than putting my feet up on my plot and rewarding with a cuppa and a well earned home baked treat!
Hollie x