Cosying up by the fire on a gloomy evening as the rain pours outside, my idea of perfection! Having grown up in a house with numerous fires, coming home from long winter walks to heat up our toes by the flickering glow was a regular occurrence so naturally I always wanted one for my future house too. Sadly due to the layout of this house and our adjoining neighbours a real woodburning stove is impossible, but I felt like our living room was still missing a focal point until I discovered you could get some beautiful little electric stoves that with a bit of stove styling could be the final touch of cosiness we needed to complete the room!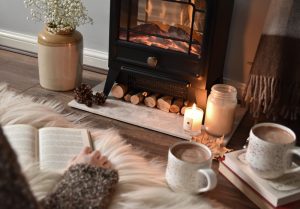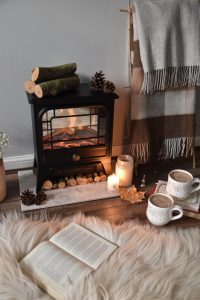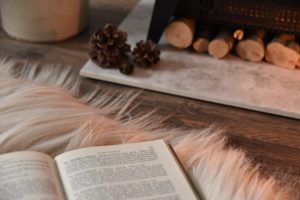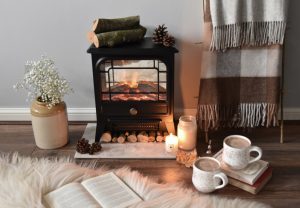 We got this stove from Homebase and the first thing I done was peel off the brand name which was a thick plastic sticker, and replaced it with a little brass handle which I simply stuck on with strong interior glue. This instantly updated the stove to make it look more expensive and a whole lot nicer! I also purchased a large sample tile in a marble effect which was about £1 and acts as the perfect little hearth for our stove. Sample tiles are available in most DIY shops and can come in so handy for projects around the house like this for a super thrifty price!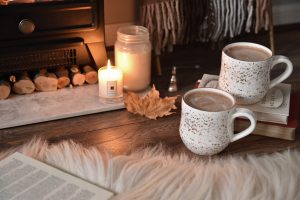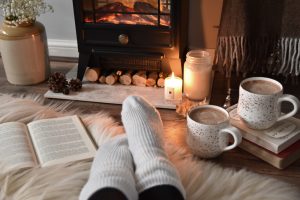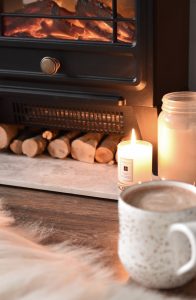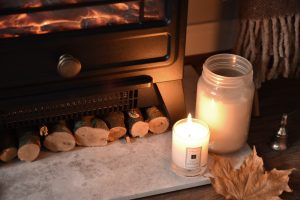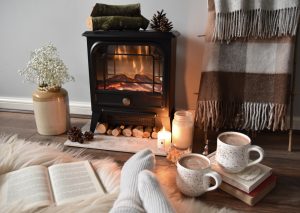 To style up the stove we gathered some fallen branches from the trees around our house. Chris cut them up and I used them to fill the gap underneath the stove and added a little pile on top. This instantly makes the stove look more rustic and realistic! I then added some pinecones and candles around the stove to make it look even more inviting. To finish the stove styling I moved my Blanket Ladder DIY filled with vintage wool throws beside it for added cosiness. I am absolutely thrilled with how our living room looks with the addition of our electric stove, which all in all was pretty thrifty to create! I hope I've shown you how anyone can finish off a sitting room and enjoy the cosy ambiance of a fire at home, even if a real one isn't feasible!
Hot chocolate anyone?
Hollie x