We are thick in the throws of a garden restoration, restoring this big old garden to it's former glory. When we bought the cottage, the garden was mainly overgrown with weeds taller than us, so it has been a huge amount of work to get it stripped back for starting again! One thing we were happy to inherit along with the garden however, was the most incredible rhubarb patch which has clearly been happy here for a very long time. Believe me when I say there were squeals of excitement as I discovered it engulfed in Fireweed! Needless to say we have been having crumbles and compotes all season long, but this week I made a sweet little pie for puddings, with the addition of stem ginger which makes a heavenly combination!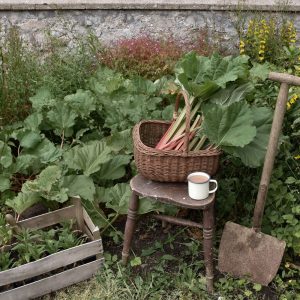 You will need:
For the pastry:
225g plain flour
100g cold butter, cubed
pinch of salt
cup of cold water
1 egg to finish
For the filling:
400g rhubarb, washed and chopped into roughly 1 inch slices
60g soft light brown sugar
2 cubes of stem ginger
makes a small 20cm size pie, double quantities for larger pie dish
Step 1. Preheat oven to 190 degrees. Sift the flour into a mixing bowl and add the butter. Rub with fingertips until the mixture resembles fine breadcrumbs. Add a pinch of salt then add a tablespoon of water at a time, working with hands after each addition until a smooth dough is formed. Gently kneed until it can be rolled into a ball, then divide into two balls and place them on a plate in the fridge to chill.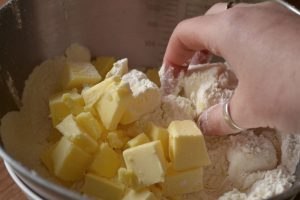 Step 2. Whilst your dough is resting, you can make the filling. Finely chop your stem ginger until it is in very small pieces. Place your chopped rhubarb, chopped stem ginger and sugar into a pan over a medium heat. Stir continuously for 10 mins or so, until it starts to combine but the rhubarb still holds its shape. Remove from heat to cool slightly.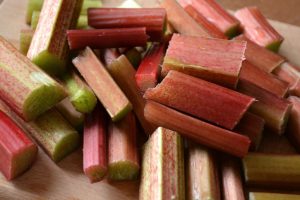 Step 3. Remove your dough from the fridge. Lightly flour a surface and roller, and gently roll out your first ball into a roughly 1cm thick piece. Gently lift and place into your pie dish, carefully pressing it into the corners. Use your rolling pin to roll it over the dish which will remove any excess overhanging dough. Use a fork to gently press into the bottom of the pie crust, then add a piece of baking paper and baking beads or lentils ensuring they are also right into the corners, and blind bake for 20mins then remove from the oven.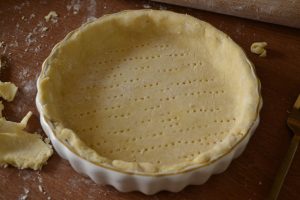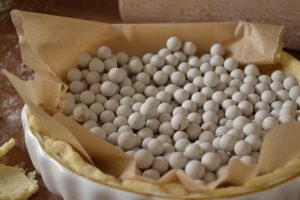 Step 4. Whilst your crust is baking in the oven, roll out your second ball to the same thickness to create your pie top. Here you can go wild! Be as creative as you like to decorate your pie, using cookie cutters, braids or just a simple criss cross design. I used a mix of cutters and freehand to create a leafy flower design here, which I think works lovely for a Summer Rhubarb Pie!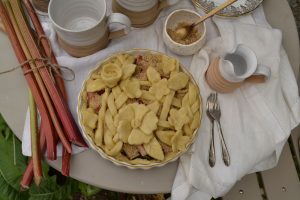 Step 5. Remove your baking beads and baking paper from the pie crust, and scoop your mixture inside. Place your decorative pie pieces on top however you would like. Beat the egg in a mug with a fork, then use a pastry brush to lightly brush over your decorative pastry which will brown them nicely. Bake for around half an hour, until the top pieces are lovely and golden, then remove from the oven. Best served fresh with a generous scoop of ice cream!
Hollie x