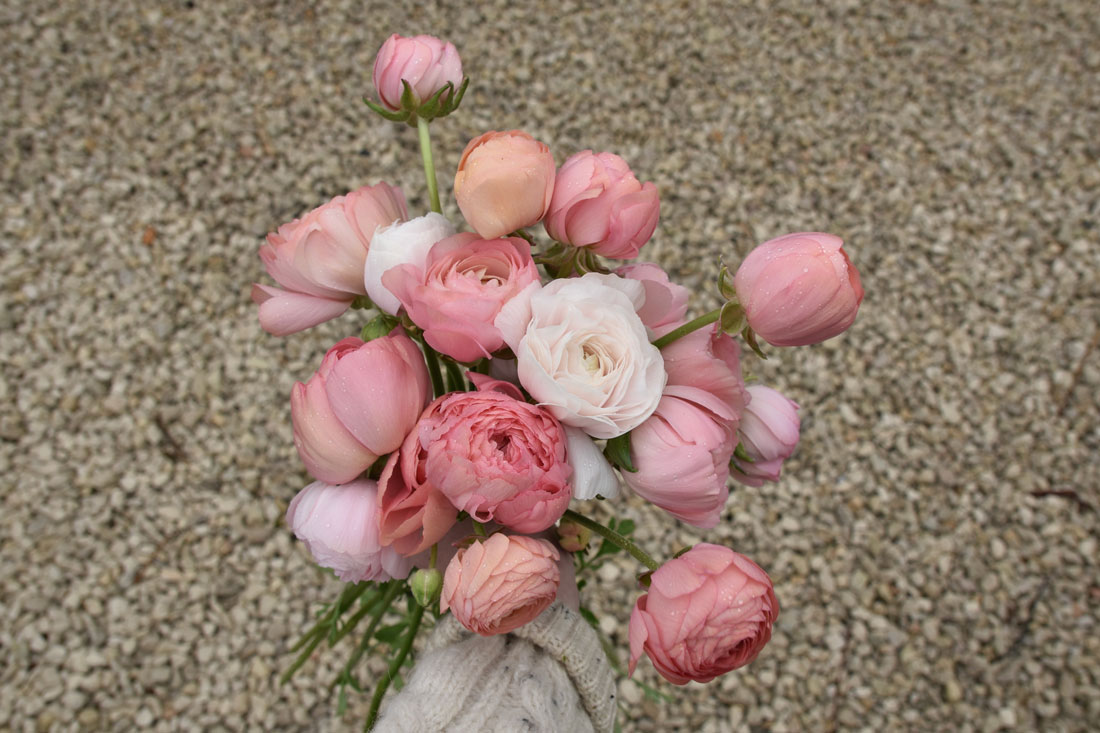 I'm calling this May 'Ranunculus Month'. Just wow, what a crop!! The ranunculus have quite simply outdone themselves and I am still in awe of their beauty!! Huge, fluffy, in the dreamiest peachy hues and gathered armful at a time, these beauties have floored me to the point I didn't even want to part with them in my bouquets! I did, but I of course had to keep some for myself! Their ruffles are outstanding and they last for weeks in the vase which makes them the most perfect cut flower. They are well and truly worth the fuss (planting explained in previous post!) and I am now totally obsessed with growing them. They fill that gap of focal cut flowers between the last of the tulips and the first of the peonies, and although their season is short boy do they earn a spot in the garden!!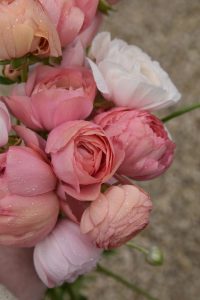 The weather has warmed up slightly so I've been hardening off some of the hardy annuals and some of the Autumn sown ones such as cornflowers and clarkia have been planted out. Mr Berries has made some plant supports for these using wood and stock fencing which should see them with some nice tall and straight stems, preventing any major tangles! To prep the beds after a LOT of weeding, I've put down a really think layer of organic and peat free compost and planted them in there. For speed we've not made raised beds for everything although longterm I plan to do this as I prefer it, but for now this will see us through the season! The spring sown seeds have been potted on and are ready for hardening and planting out, I just need to clear more of the garden to make way for them first!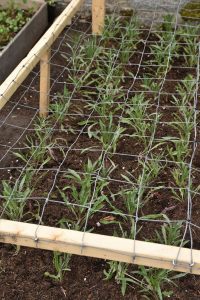 The dahlias have been started in the greenhouse and are well on their way. They were started later than last year as it just wasn't quite warm enough but they are looking very happy now. I still haven't mastered overwintering them perfectly yet, with a lot of casualties along they way! I did however order over 100 new tubers with an eye on the large beds at the front of the cottage for them, so there certainly won't be a shortage this year! I do wish we could have them slightly earlier in the season but they just were not happy at all in the polytunnel last year! They were singed and frazzled with the heat, then there was a greenfly problem to the point I ended up ripping them out and just sticking with the bed of outdoor ones. I'll perhaps try them again, but this year they will all be outside which will hopefully make for a gorgeous display!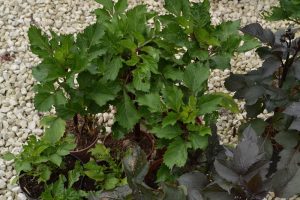 Out in the garden we're still weeding!! It's become a daily event, after our evening dog walk we spend 'a wee hour' in the garden just weeding. I have got the whole team involved, Barley too! Who hangs out with us as we crack on and passes quality control on the best sticks we find along the way. My main focus as well as the old allotment is the front garden as I really hope we can get it looking tidy enough this summer! It's a big space and apart from a few perennials, after weeding the big beds are bare soil and that just isn't pretty. I've earmarked a lot of annuals and biennials that I've grown from seed in the greenhouse for the front, I'm just hoping I've got enough! I plan to try my hardest to grow as many perennials from seed to fill the garden as it is by far the cheapest way to fill it up. It will also need lots of roses so I've started building up my collection with some climbers for the cottage walls planted first!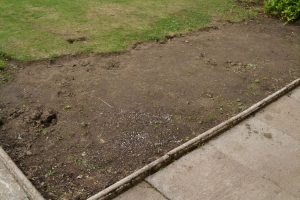 June is set to be a busy month, with holidays (yay!), weddings and weekends away, so if I am able to get the seedings planted out and really just keep the weeds at bay I'll be happy!!
Hollie x