Garden Diaries: April 2022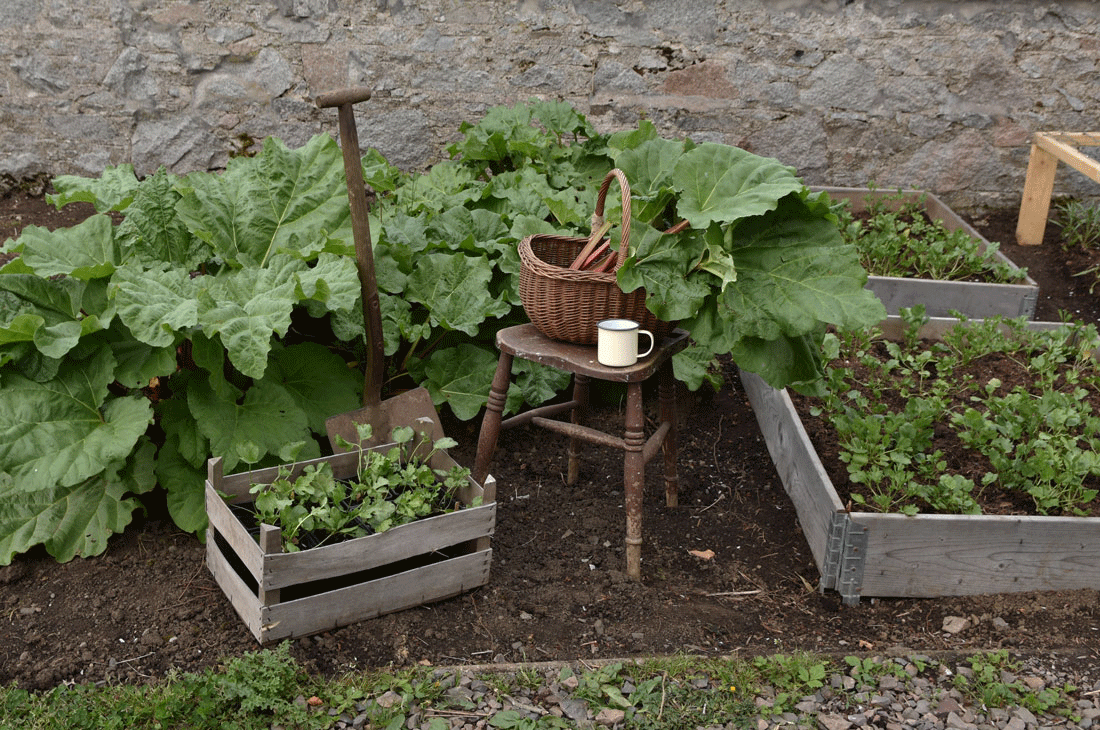 April has been a busy month in the garden. It's still felt very cold and wintery but with every small window of sunshine I've been sowing seeds as fast as possible! March's sowings are coming on slowly, but they are coming! And some of this months sowings are slowly beginning to peek through the compost too. Spring is well and truly here and it feels good! The sowings from last Autumn have all been potted on and are looking almost ready to plant out, although we of course have to keep them covered a little longer until the risk of frost has passed. They are going to be flowering miles before the Spring sowings so it really is a top tip if you hope to have annuals much earlier in the season!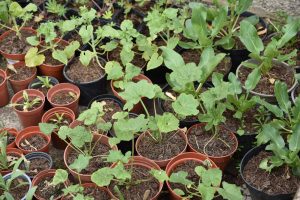 The biggest joy for me about the arrival of Spring is however, the Spring bulbs!! All those daffodil and tulip bulbs planted back in November on a wet, wet day are coming in thick and fast! After a long and cold winter they really do always bring so much joy as they burst into colour, and the cut flower season officially begins!! First to flower and one of my favourite tulips is 'Apricot Pride' who is a gorgeous early single variety in the prettiest peachy pink! Amongst the daffodils some favourites are 'Pink Charm' and 'Replete' which are gorgeously unusual and have earned a firm spot in my annual bulb order!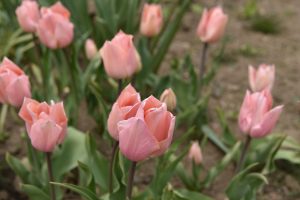 In the polytunnel the ranunculus are beginning to pop and boy are they worth the hard work! They are a very fickle crop, sown in September and last year they didn't do all that well. This year however, I was determined to nail them! I spent a long time hunting for speciality cut flower corms and managed to source some beautiful varieties, starting them off on cosy cottage window ledges instead of a cold greenhouse. They stayed there until they had nice healthy growth on them before being potted on and moved to the polytunnel where I wrapped them in fleece and checked them every other day! As soon as the soil started to warm they were planted in the ground and I am beginning to reap the rewards of my efforts. Like roses, maybe better!! And to get such a beautiful focal flower at this time of year is real joy!!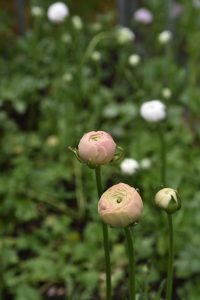 In the garden as soon as the sun started to show itself, boy so did the weeds. It's hard not to get weighed down with a hugely overgrown garden and we are really trying to focus on sections at a time, but we also don't want the whole garden to turn into a jungle again so it's a constant battle right now! Whilst I am focusing on the old allotment come cutting garden and really digging everything up there, we are also trying to stay on top of the other weedy areas even if it's just giving them a hack right back to try and stop them from going to seed and spreading again. We have however discovered some lovely things underneath them which is quite fun!! The favourites being a hidden path and a whopper of a rhubarb patch!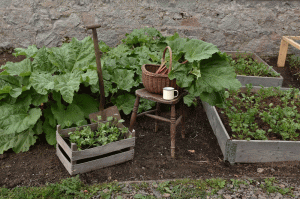 Weeds aside, the garden is coming to life with a few perennials peeking through and two big apple trees in full blossom! The biggest of the two wasn't so productive last year but I presume it hadn't been pruned in a long time, so in January set about giving it a good attempt following none other than Monty's strict instructions! So fingers crossed I have done enough and we will have an even bigger apple crop come Autumn.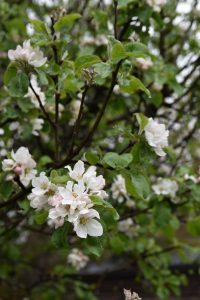 We have a lot to keep us busy in the garden over the season alongside the usual sowing and growing! I'm going to try my best to get the allotment finished and cleared so we can start making some beds and get the things in the ground! We have cleared the area around the rhubarb so far and popped up a couple of beds while husband gets started on a few more. The front garden desperately needs my attention now that the weeds have started growing so I'm going to work on planning and prepping the flower beds there too. Now all we need are the light evenings to really kick in so we have no excuses after work!
Hollie x