Allotment Diaries: November & December 2020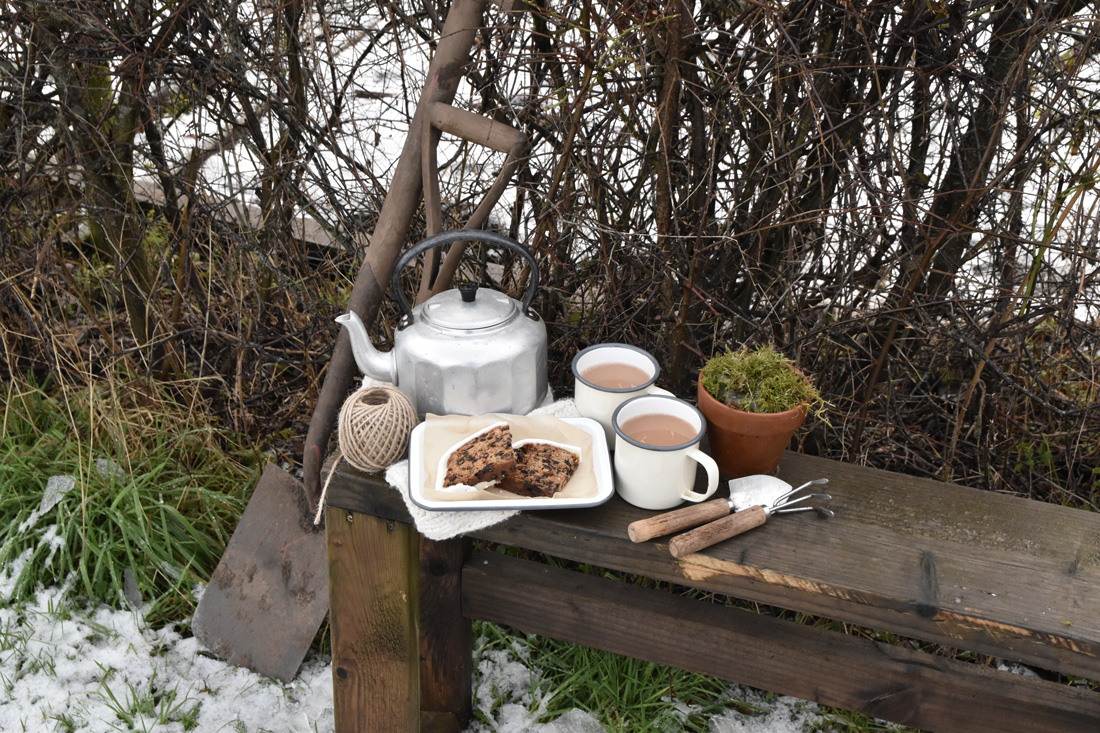 Winter at the allotment – cold and muddy. It's been a dull, dreich and rainy few months with dark nights and long working hours meaning there sadly wasn't nearly as much time spent at the allotment as I would have liked throughout November and December. But at every opportunity with every day off I had, I was there! Waterproofed up to my eyeballs with my dinky little stove for pots upon pots of tea, ready to fill the few daylight hours with as much work as I could. The first job in early November was the big Tulip bulb plant out. Hundreds of Tulip bulbs in lots of beautiful varieties tucked away in their beds for the winter to emerge in just a few months time as a big burst of colour! It's a job I've always loved but have never done on such a large scale before, so the excitement was hardly containable! I planted them in rows variety at a time before covering them up carefully, then filled pots to the brim with the leftovers. I was definitely tight for space on the bulb front so I have pots absolutely everywhere, full of Tulips and Daffodils that I can't wait to see in Spring! Planting bulbs is a job I love and I enjoyed every second of it. It just all of a sudden feels like by doing it Spring is around the corner and all the hope and new life it brings with it!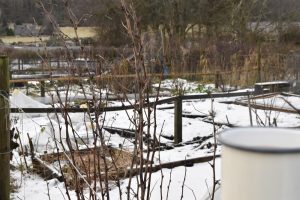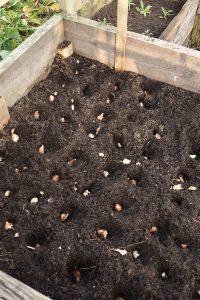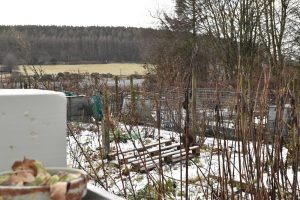 Under the protection of the poly tunnel, my October sown Ranunculus and Anemones have been coming on great! In just a few days after planting their little green shoots of hope started to pop up to the skies and they've continued to grow with the first leaves and good few inches of green going strong. With so much dampness in the air throughout winter, you really don't have to water overwintering seeds and bulbs much, if even at all, so I'll keep a close eye on everything to make sure they are all warm enough and getting on good throughout the cold months and when they have good growth on them and have outgrown the seed trays will plant them on in January.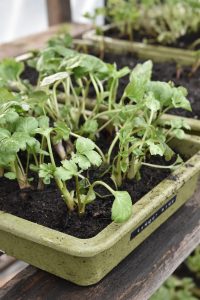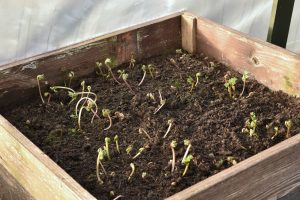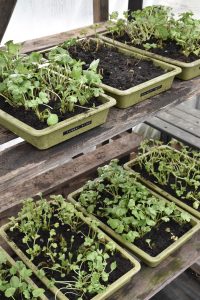 Project greenhouse has been coming on great and has been such a happy wee place to hang out when it's been pouring outside!! It needed a few new glass panels to replace some broken ones which I managed to get from a local glass company. Once I fitted them my greenhouse was complete and water tight! I've spent hours potting up Spring bulbs inside, and of course just happily pottering away! I ordered some staging for inside and have some more bits to organise it with which I'm really looking forward to getting together when I've got more time in January.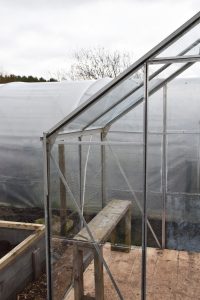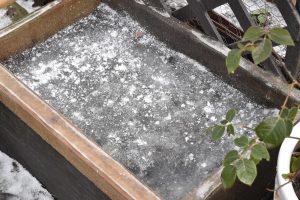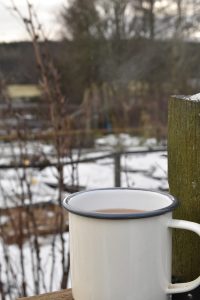 As well as work keeping me busy throughout November and December, wreath mania was in full swing! I had lots of lovely wreath orders which I am so grateful for, so in order to make them I set up a little pop up workshop in the tunnel at the allotment! It was just so much fun and although I hope to have a proper studio next year and even be hosting wreath workshops, there really was something quite novelty about making them in the poly tunnel surrounded by all my plants! Towards the very end of December the weather finally turned and all of a sudden our corner of the world was a frosty winter wonderland. It wasn't long before the snow followed and made for a magical Christmas after all! My tulip beds became ice rinks, and the perennial plants were completely submerged. It was so cold in fact that I panic bought some horticultural fleece to tuck up some of my biennials with as they were looking extra frozen!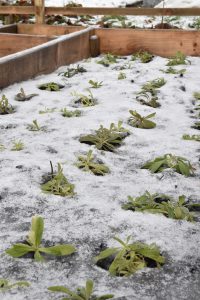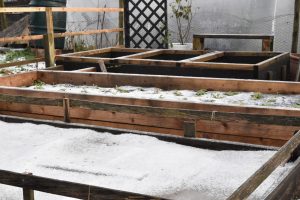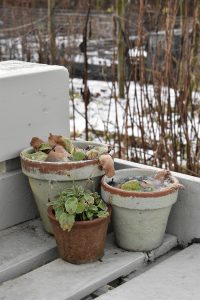 The allotment sits out in the countryside almost in a little valley of it's own which is quite an exposed site and is a right wee frost pocket! Even though my garden isn't far away it doesn't get nearly as frozen as my plot, so I'm taking extra precautions to make sure everything stays safe over winter! As the weather continues to get colder I know the worst of the winter isn't here yet, so now is the time to make sure we're ready for it! One thing is for sure, that a blanket of frost and snow really does make the place look beautiful! And it's been such a sight to enjoy after a days hard work whilst warming up with a pot of tea fresh off the stove and a slice of mums homemade Christmas cake – one of the greatest joys of Winter!!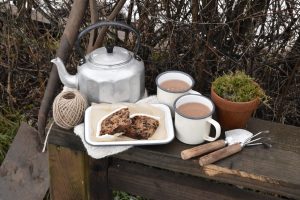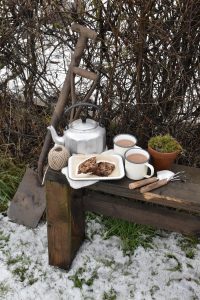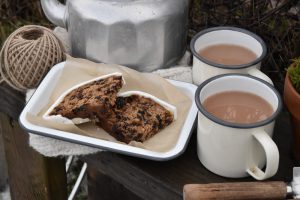 I'm always excited for January as I love that new year feeling and the prospect of the year ahead. It's a month for planning at the allotment so I am really looking forward to getting my greenhouse organised and ready along with the ploy tunnel, organising my planting plan, sorting out my seeds and of course –  starting the sowing!! 2021 is going to be a big and exciting one for us, and I'm so excited to bring you along too! Here's to a much better year for everyone, I can't wait to get stuck in!!
Hollie x