Allotment Diaries: June 2020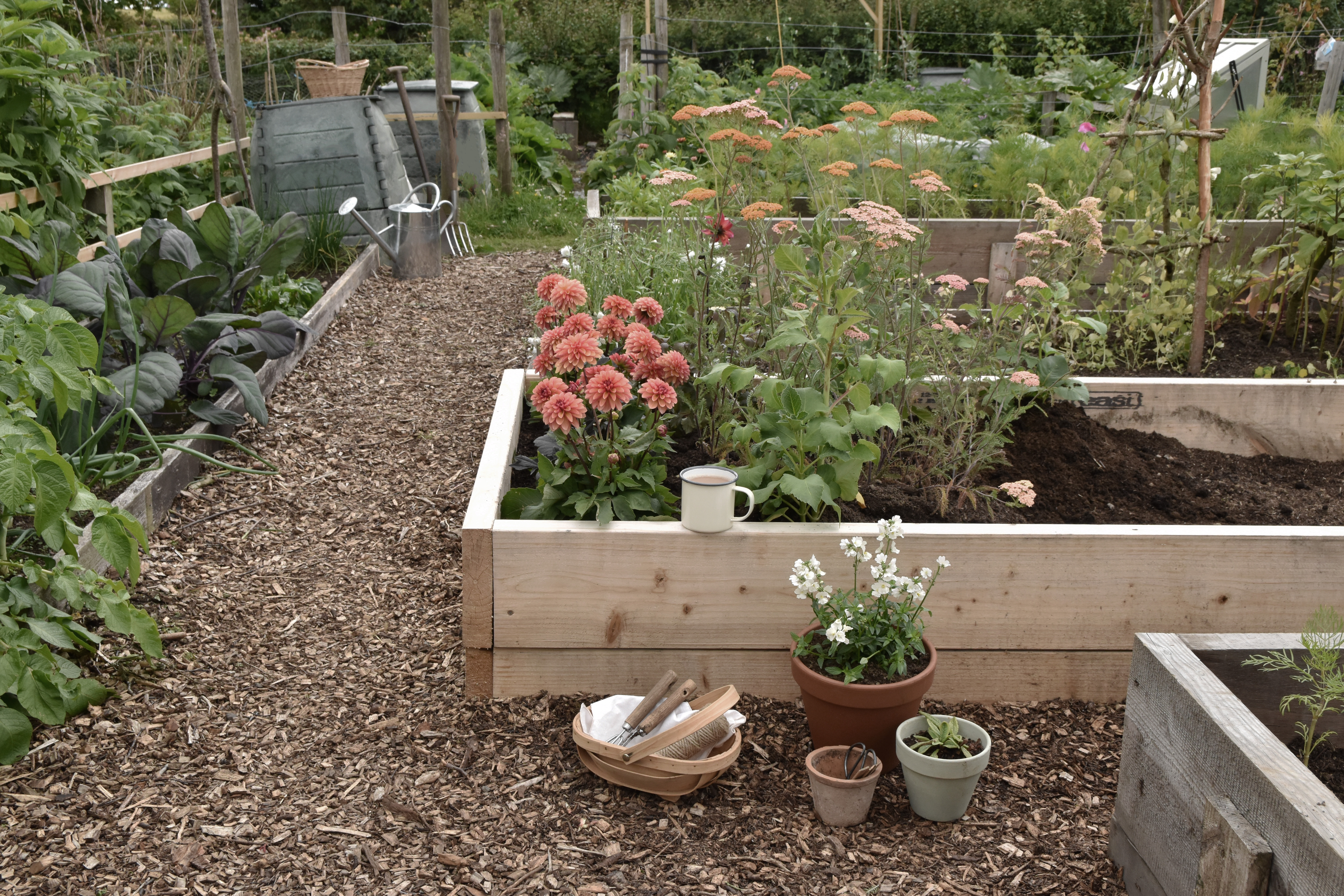 June, the month the allotment came into bloom!! Since the last Allotment Diary my plot has burst into life and all of a sudden actually looks like a cut flower patch! At the start of the month I was busy hardening off my flowers from the heat of the polytunnel and preparing them for a life outdoors. One by one they were ready for planting out and soon the raised beds were filling up beautifully!! It really was the most exciting time and for all our hard work to get to this point was the best feeling. In just a few short months with a lot of help from Mr Stin, we've managed to turn a muddy and overgrown plot into a little flower farm which is now bursting with blooms and buzzing with bees!! There's still a lot of jobs to do to get the allotment up to where I would like it but getting the flowers out into the plot felt like such a big exciting milestone!! Another exciting milestone this month was of course, completing my floristry diploma!! The last few months have been tough with switching a practical course to full on written work with very little guidance, and is not the end to the course anyone would have hoped or expected. But regardless, we made it and it feels like a huge achievement and a big weight off my shoulders!! Now I can spend all day every day at the allotment and get my flower farming plans well and truly underway!!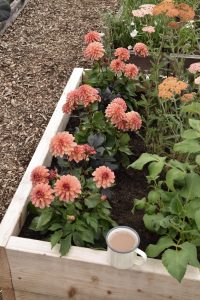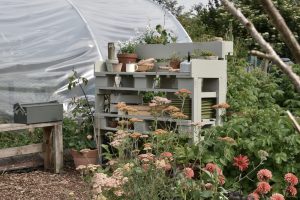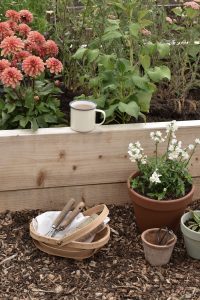 The first raised bed on the plot has been filled with Cosmos in four different varieties which are starting to bush out beautifully and have just began to bud meaning the flowers won't be long! I added my Pot Marigolds to fill the gap at the bottom of the bed which have settled in nicely and are ready for picking. In the second bed I have planted the Sweet Peas, Sunflowers, Cornflowers, Nasturtiums, Amaranthus, Phlox and have just sown some Poppies too! The third bed is earmarked for Dahlias which I've just started to plant out along with some Achillea. The fourth bed is going to be for my biennials such as Sweet Williams, Lunaria and Nigella which are currently seedlings in the poly tunnel and hopefully I'll have room for some perennials like Astilbe too! I've set up an account with a beautiful local plant nursery which is for trade and wholesale only and I've just ordered some perennials for the plot with them which I can't wait to get planted! I've got some planters with more Nasturtiums and Sunflowers in them with three more still to build which I plan to fill with grasses and foliage.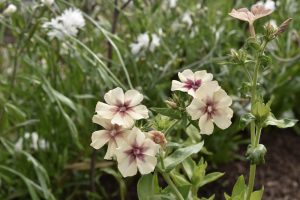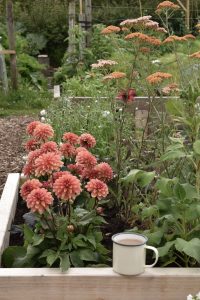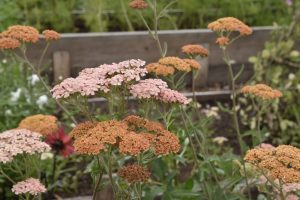 This month I bought my first rose for the plot which was also very exciting!! I harvested the first one to bloom with my first allotment flower haul and it felt amazing to have a small but mighty first allotment harvest to make an arrangement with! I've been doing a lot of research into the best roses for cut flowers and have a list of the ones I would like to purchase, so was delighted to see that my local garden centre had a couple of them in stock! David Austin 'Emily Bronte' is the palest of pink with the most heavenly scent and lasts beautifully when cut so was the first one to begin my collection. 'The Generous Gardener' was not so much for cutting, but was very much on my list for my own enjoyment and I'm now thinking that I might have to have it planted by the front door rather than on my plot as it's a beautiful climber with the most incredible scent!! Anyway back to the shrub roses for cutting on the plot, I have decided to pull out the raspberry cane border as it is rife with jaggy nettles that are determined to come back bigger each time they are removed, and replace it with a shrub rose cutting border instead! I knew I was going to have to clear it to get rid of the weeds somehow and this idea came to me one evening and now I can't wait to get started on it!!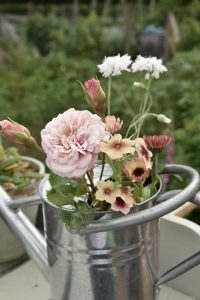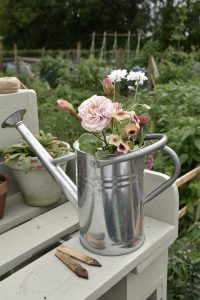 I decided to have a go at making some supports for my Sweet Peas and sunflowers from branches, so my cousin and I went foraging on the forest floor and returned with our arms fully loaded! To make the supports make sure to pick sturdy and tall branches, dig them into the ground and tie tightly with twine to secure the branches altogether. We used four tall branches to create the sides then added two horizontal branches on each side to create a trellis for the Sweet Peas to cling on to and to hold the sunflowers up. Planted up they look fabulous and I'm delighted how they have turned out for such a cheap and simple DIY! I've placed them in the middle of the second bed as they give great height, and have planted smaller flowers on front of them for practical use of space. I'm really trying to utilise every inch of space on the plot as much as possible so I'm going to get some climbers for my boundary fence by the polytunnel that I can use for cutting. I use jasmine foliage from the garden a lot in my floristry work so I'm going to try and get the same one for the plot, and I'm currently researching Clematises for cutting too. They will give me a much nicer boundary fence full of foliage and will increase my growing space at the same time! There's a narrow path between my fence and the tunnel which is currently full of massive weeds that are beginning to creep through to my plot, so clearing them is next on the list meaning I'll have plenty of room for my climbers to grow without them getting invaded.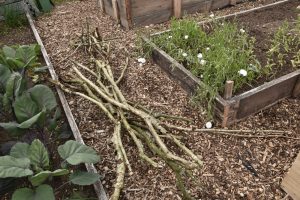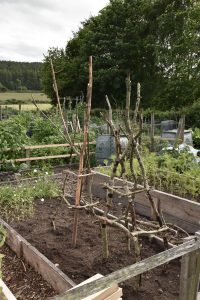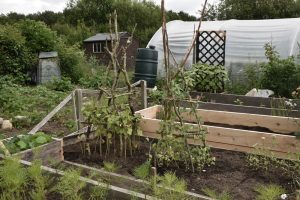 At the start of the month I was busy sowing biennials which are now coming on great. I also sowed some Zinnias as a bit of a last minute decision as I came across some lovely variates and reckoned I would have room for them! They germinated very quickly and are almost ready for hardening off so I think I will pop them in the bed alongside the dahlias as I should have a home for them there! It's been more rainy than not after such a lovely May so I've been spending a lot of time hiding from the showers in the Polytunnel, sowing seeds, potting on and being grateful for the shelter. We have the rain to thank for the plot suddenly looking so lush and green so I'm always very grateful for it too, and thankful that it means less watering can trips to the stream for me!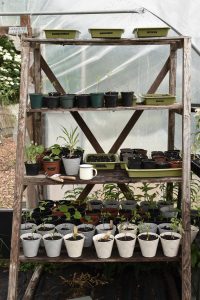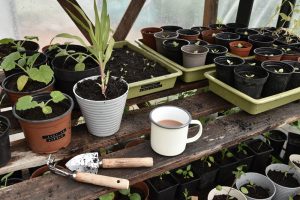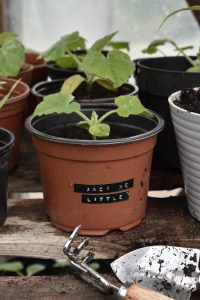 Next up on the plot is to get started on my shrub rose border, after a mammoth weed clearance first. Hopefully I can add to my rose collection and get them planted in soon. I'd like to get the climbers and get those in too. I also hope to get the rest of the wood for the fence that we started, get it finished and painted up, but I need Mr Stin for that and a borrow of an extra large work van – that can usually be negotiated with cake! Building wise we still have to make the rest of the planters too so I can get them filled with foliage. The veggie patch is coming on too and my little pumpkins are almost ready for planting out, so I'm going to make another branch frame for those and have a space that will be perfect for them. The big plant out will continue and as my flowers start to bloom I'm hoping I will have some seasonal bunches ready for buying in the next few weeks!! My floristry website is still in the making and my fabulous friend is working on my branding which I can't wait to share, but before it's all ready to officially launch the homegrown flowers will be blooming and I'm hoping I can still start to sell them locally! I have a few ideas up my sleeve, so do keep an eye out!! It's definitely exciting times on the plot and it really feels like my allotment vision and floristry plans that were once a distant dream are coming to life. I can't wait to spend a whole lot more time there in the weeks ahead and get some floristry underway with my very own homegrown flowers!!
Hollie x