Wild Garlic Scones and Biscuits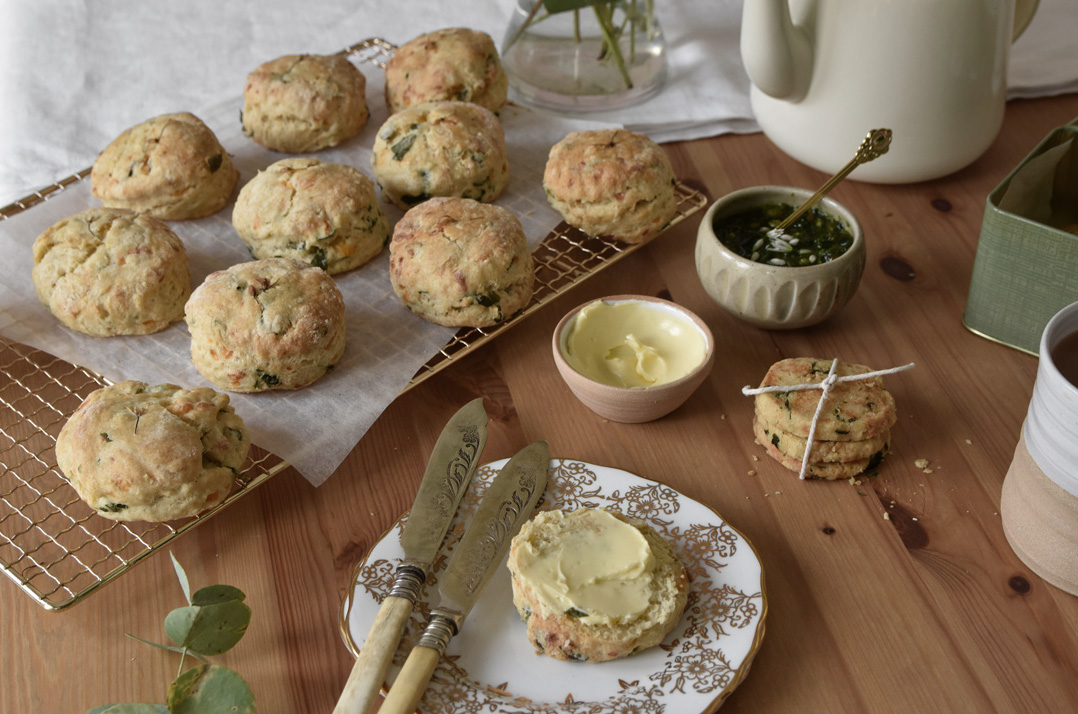 It's that lovely time of year when the trees have burst into life and all of a sudden the countryside and parks are looking lush and green again. We are nearing the end of Spring and with that comes the beginning of wild garlic season which is now in full swing. It has to be one of my favourite foraging seasons ever, as wild garlic grows in huge patches and the possibilities of what it can be used in are endless! On Sunday I headed to a wild garlic spot to fill my boots, or basket should I say, for my first haul of the season ahead of some baking in the form of Wild Garlic Scones and biscuits. Wild garlic grows in damp, shady areas and is usually found near water so look out for it hiding under the shade of trees around riverbanks. If you are local to Aberdeen, this wild garlic spot can be found in abundance by the banks of the River Don around the Brig O' Balgownie. Cross over the bridge towards Aberdeen and take a turn off to the right into Seaton Park then follow the path for a few minutes and you will be met with a mass of wild garlic on your right hand side, all the way from the path right down the steep bank to the river!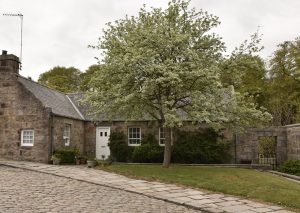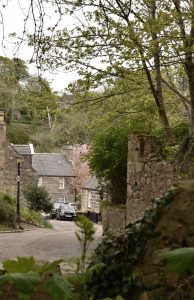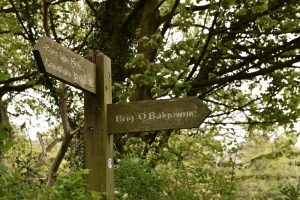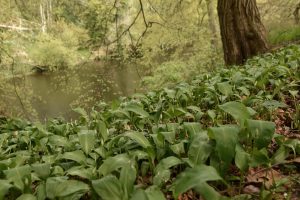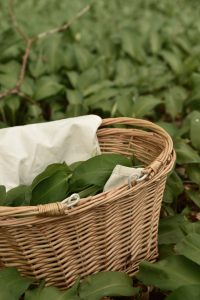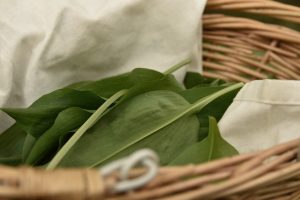 You'll certainly know when you've found a wild garlic patch as the smell will be in the air as you approach it. If you are unsure just pick a leaf, tear it in half and if it smells like garlic that's it! Also look out for the little white flowers amongst the leaves. This patch hadn't flowered yet with only a few bulbs just starting to open but the leaves are ready to eat as soon as they appear right through to the end of the season and the flowers are edible too and make a very pretty addition to salads. Wild garlic freezes very well and is a handy ingredient to stash away so you can continue to use it when it's no longer in season.  As well as using it in my daily cooking, one of my favourite things to make with wild garlic is Pesto which is great with salads, roast veg, pasta and sandwiches. This year I've incorporated it in some savoury baking and have shared the recipe for my Wild Garlic Scones and Biscuits below! Both make excellent snacks but work particularly well when served as a side along with soup or salads.
For the Wild Garlic Scones you will need:
450g self raising flour
110g cold unsalted butter
300ml milk
50g cheddar cheese, grated
A generous handful of wild garlic leaves, thoroughly washed and dried
A few wild garlic flowers to decorate
A pinch of salt
Step 1. Heat the oven to 200 degrees and line two trays with baking paper. Place the flour and salt into a bowl together and using your fingertips rub the butter in lightly until you have a breadcrumb like mixture.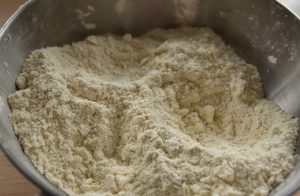 Step 2. Make sure the wild garlic is completely dry before chopping it into small pieces and discarding of any stalks. Add to the mixture along with the grated cheese and give a gentle stir until both the wild garlic and cheese are evenly distributed.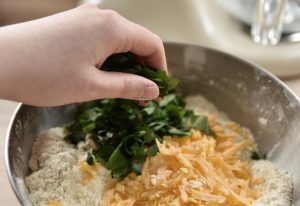 Step 3. Pour in the milk and continue to stir gently until a dough forms. Dust a work surface with flour and tip the dough out onto it, kneading very lightly until you can roll out the dough. It is important that you are gentle with the dough at this stage as over working it will prevent your scones from rising, and nobody wants a flat scone! Roll the dough out with a flour dusted rolling pin, leaving it at least 2.5cm in thickness.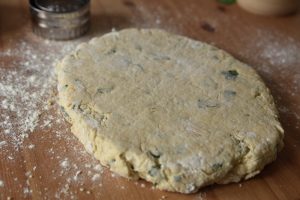 Step 4. Use a 2.5cm round cutter to cut out your scones and place them on to the lined baking trays, spacing them out evenly.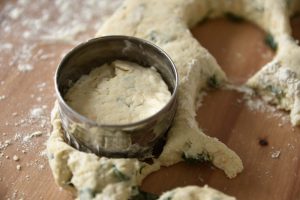 Step 5. To finish press a wild garlic flower on to the top of each scone then brush with a little milk to help them brown. Place in the oven for 15-20 mins until golden on top then remove and set aside on a wire rack to cool.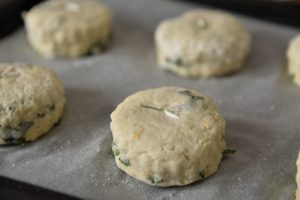 Serve your scones with a generous helping of butter for the most delicious afternoon snack or accompaniment to lunch!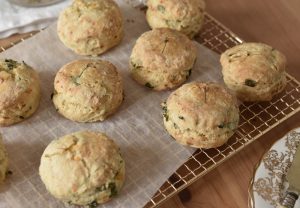 For the Chedder and Wild Garlic Biscuits you will need:
125g plain flour
85g cold unsalted butter
85g cheddar cheese, grated
A handful of wild garlic leaves, finely chopped with any stocks discarded
Step 1. Place the flour into a mixing bowl and add the cold butter. Use your fingers to rub the two together until it is well mixed.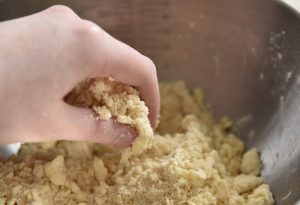 Step 2. Add the grated cheese and chopped wild garlic giving the mixture a good stir until they are evenly distributed.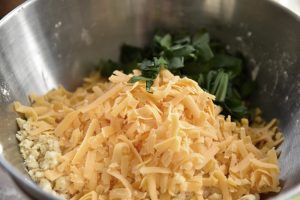 Step 3. Use your hands to work the ingredients together in the bowl until a dough is formed. Tip the dough out and roll into a log shape making sure it is tightly packed together. Wrap tightly in cling film and chill in the fridge for at least an hour.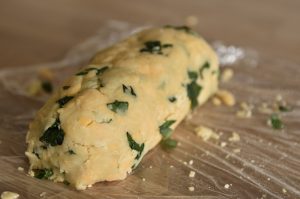 Step 4. Once the dough is chilled, remove from the fridge. It should be nice and firm! Preheat the oven to 180 degrees and line a baking tray with baking paper. Unwrap the dough from the clingfilm carefully and use a sharp knife to slice the dough log into even slices of about 1cm in width.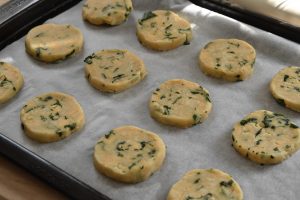 Step 5. Place the biscuits onto your lined tray spacing them out evenly and bake for 15-20 mins until they have just began to turn golden. Leave to completely cool before handling.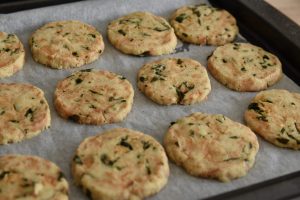 Serve your Wild Garlic Scones and Biscuits with a hearty salad and a side of wild garlic pesto for a super seasonal weekend lunch with friends. There's not much better than foraging fresh ingredients and working with them in the kitchen to turn them into a feast to enjoy!
Will you be doing a bit of wild garlic baking this weekend?
Hollie x