A Weekend in a Gatehouse Cottage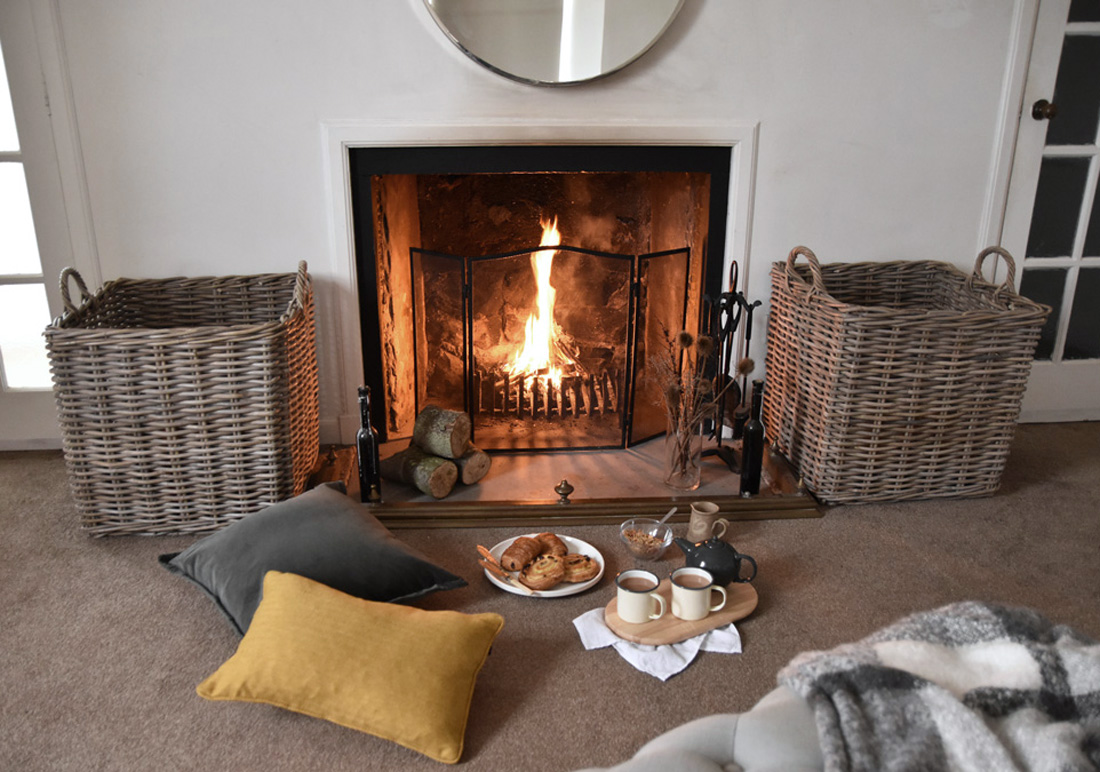 Sometimes all you need is a few days away in a cosy cottage in the Scottish countryside to recharge your batteries, and last weekend that is exactly what we done. We are very lucky here in Scotland to always only be a short drive away from a beautiful change of scenery with new adventures awaiting us, so this time we headed down to the The East Neuk of Fife to spend a weekend in a gatehouse cottage which was the perfect base for a weekend of exploring. We booked this staycation very last minute (as in two days before last minute!) so most of the self catering options were already snapped up, but when we stumbled upon this little gem on Air Bnb that was still available we panic grabbed it and were absolutely delighted to have secured it for a few days. It popped up at a mere £40 a night, and even with the additional £50 cleaning fee I think it is a total steal!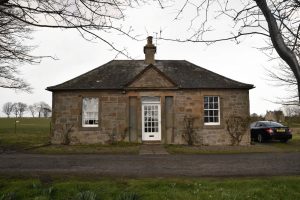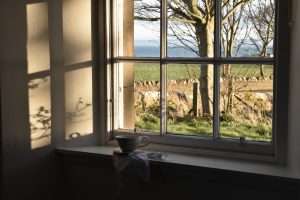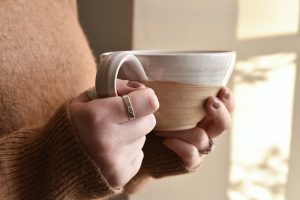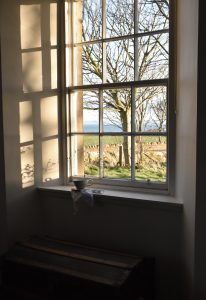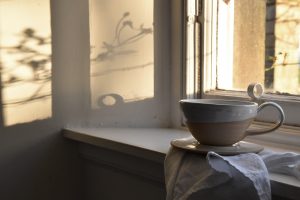 After a short drive and a day exploring the area we headed to the cottage down the winding road surrounded by lush green fields and the sea sparkling in the distance. We arrived at the charming little gatehouse as the sun was just starting to set and it definitely felt very magical! Upon entering there's a little porch which leads straight into the living room with gorgeous panelled cottage windows showing off the stunning views all around. Whitewashed walls, a snuggly couch adorned with cosy blankets and a beautiful big original stone fireplace just waiting to be lit, this room is the perfect place to spend an evening with a glass of wine in hand and a cheeseboard on the go!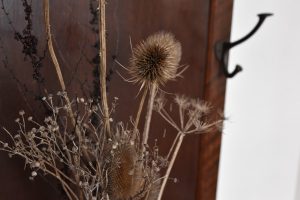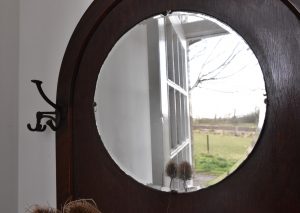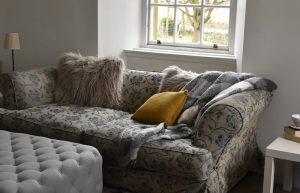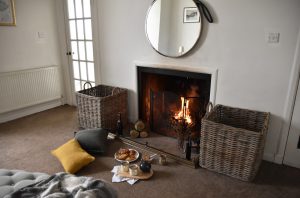 Through the next door there is a little hallway that leads off into a beautifully decorated bedroom, bathroom and a cottage style kitchen that looks out onto a walled rose garden. I can already imagine how much more charming this place is going to be when those beauties are in full bloom!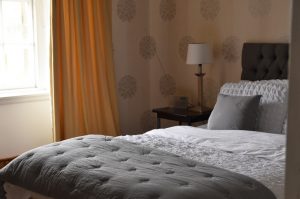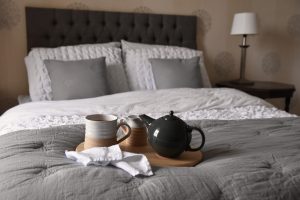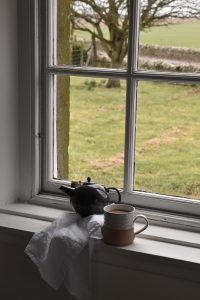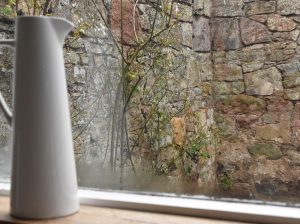 Hunkering down here for the evening as the wind howled outside was what this little cottage was made for. As the sun set it did get cold in here but boy did that huge big fire heat the place up quickly! With plenty of logs provided, once we got the fire going it happily crackled away all evening as we curled up and had the cosiest night beside it. But waking up here was my favourite part of all! Nice and early to make the most of our mornings and catch the sunrise over the sea on the east of the cottage with hot tea in hand and croissants warming up in the oven.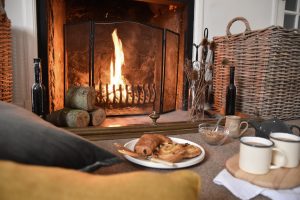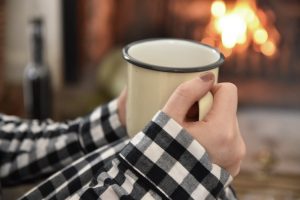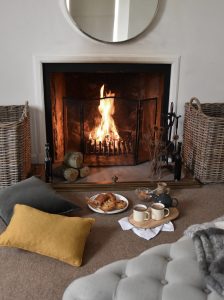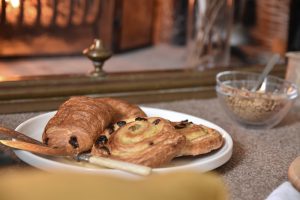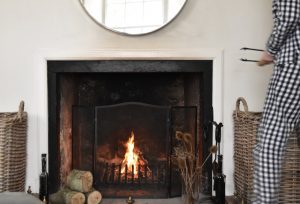 Cooried up by the roaring fire as the storm drew in outside, lounging around in pyjamas and drinking endless pots of tea – my favourite way to spend a staycation morning! However, there was exploring to be done as we got ready to wrap up and face the elements.. Just one more cuppa first!!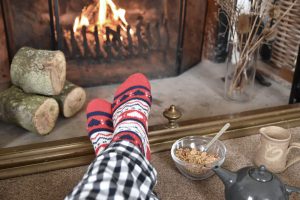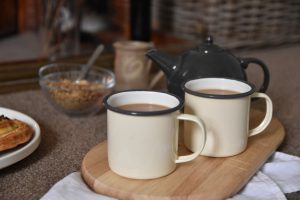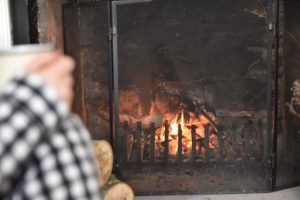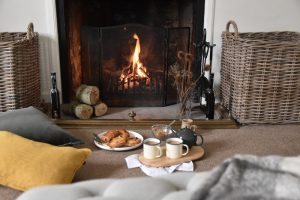 A weekend in a gatehouse cottage of absolute perfection, with the joy of being able to make ourselves very at home away from home made very easy by this inviting little place. Exactly why I love Air Bnb, there is an abundance of quirky places to be found and last minute options can work out just amazingly! I'm already browsing the pages again and looking forward to our next adventure!
Hollie x
~ Find this little gatehouse cottage here ~