Chocolate & Banana Surprise Heart Loaf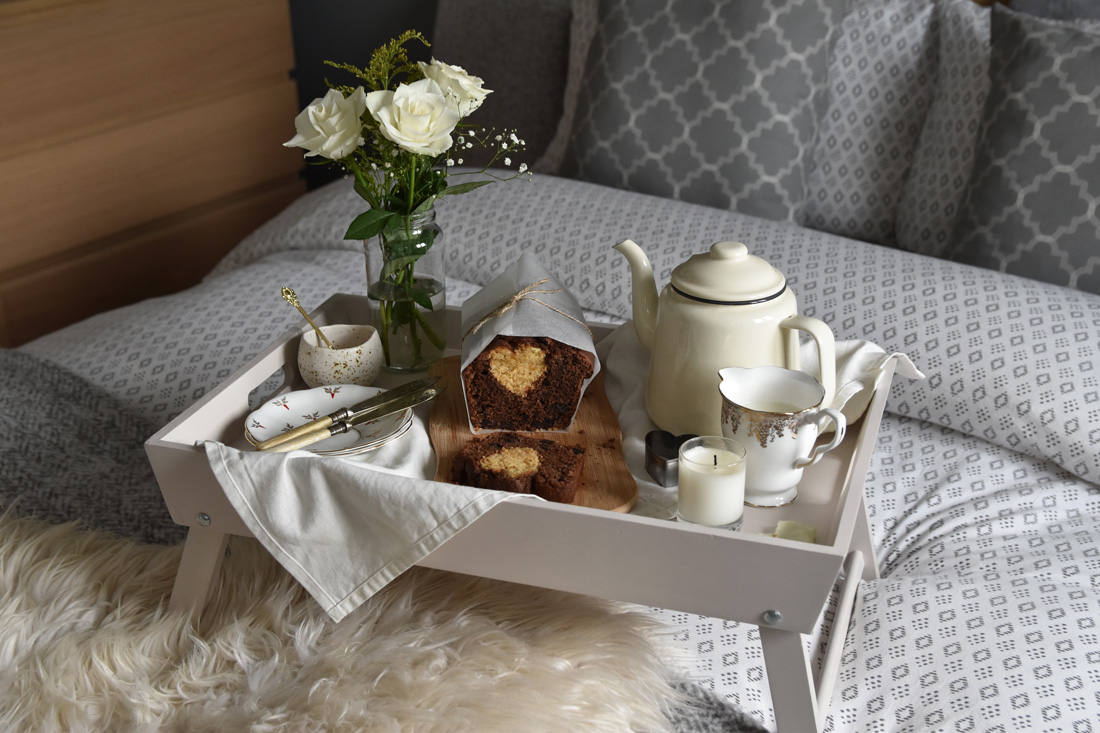 I can never resist baking something sweet for Valentines day. Heart shaped everything? Yes please! This year I've gone for a chocolate banana surprise heart loaf, as I have always wanted to try this technique and a love heart shape seemed perfect for it! I'm pleased to report it worked out well and is much easier to create than it would seem. This lovely loaf is perfect for an afternoon cuppa but the addition of banana makes it the perfect treat to slice up for a valentines brunch in bed!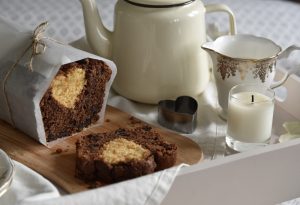 You will need:
For the surprise heart sponge:
200g plain flour
200g caster sugar
200g unsalted butter, softened
3 eggs
2 teaspoons baking powder
3 tablespoons milk
For the chocolate banana loaf:
175g plain flour
175g caster sugar
175g very ripe bananas
2 teaspoons baking powder
4 tablespoons cocoa powder
3 eggs, 2 separated (both parts to be used)
100g bar dark chocolate, broken and cut into chunks
100ml sunflower oil
2 tablespoons milk
Step 1. Preheat your oven to 170 degrees and line a loaf tin with baking paper. The first bake for your chocolate banana surprise heart loaf is the sponge loaf for the surprise heart centre! To make this place the butter and sugar in a bowl and mix until light and fluffy. Add each egg one at a time mixing well after each addition. Sift in half the flour and mix until combined, then sift in the remaining flour and baking powder and mix again until everything is fully incorporated. Finally add the milk a spoonful at a time whilst mixing on a low speed, and when the mixture is smooth spoon it into the prepared loaf tin and bake for about an hour, until golden and springy on top and a skewer test comes out clean.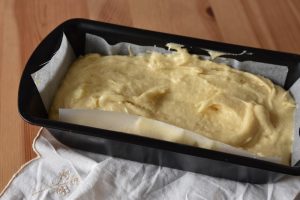 Step 2. Once ready remove the loaf from the oven and leave until completely cool, which will take a good few hours, before slicing up into even 3cm slices. When your loaf is sliced up use a heart shaped cutter to cut heart shaped pieces from each slice. These will become your surprise heart centre! Set them aside until you need them at a later stage.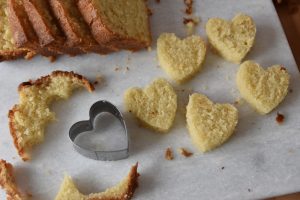 Step 3. Pop the oven back on if need be, to the same temperature as before – 170 degrees, and line a loaf tin as before. Sift together the flour, sugar, baking powder and cocoa powder and set aside. Separately place the two separated egg whites in a freestanding mixer and whisk until frothy and stiff.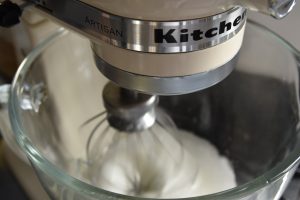 Step 4. Whilst your egg whites are whisking up mash the bananas in a separate bowl then add the whole egg followed by both egg yolks, stirring after each addition. Add the oil and milk and mix again until everything is well incorporated.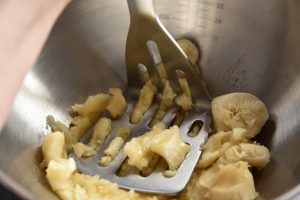 Step 5. Add the wet ingredients into the dry ingredients in two batches mixing well with a wooden spoon after each addition. Now add the whisked egg whites in to loosen the mixture and finally add in the dark chocolate pieces.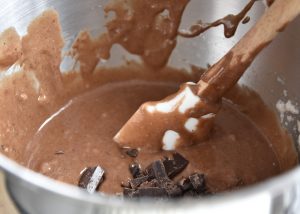 Step 6. Place your heart shaped sponge pieces in a line the length of the loaf tin making sure they are packed tight together. Carefully spoon the cake mixture to each side of the hearts then spoon the remaining on top.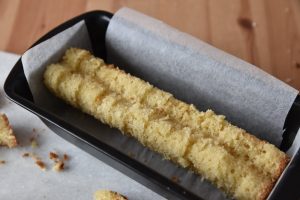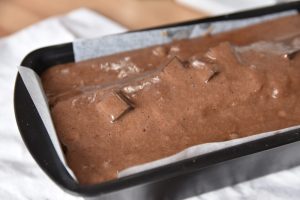 Bake in the oven for about an hour until springy on top and a skewer test comes out clean. Leave until completely cool before slicing up your chocolate banana surprise heart loaf for your valentine!
Hollie x