Love Heart Banoffee Meringues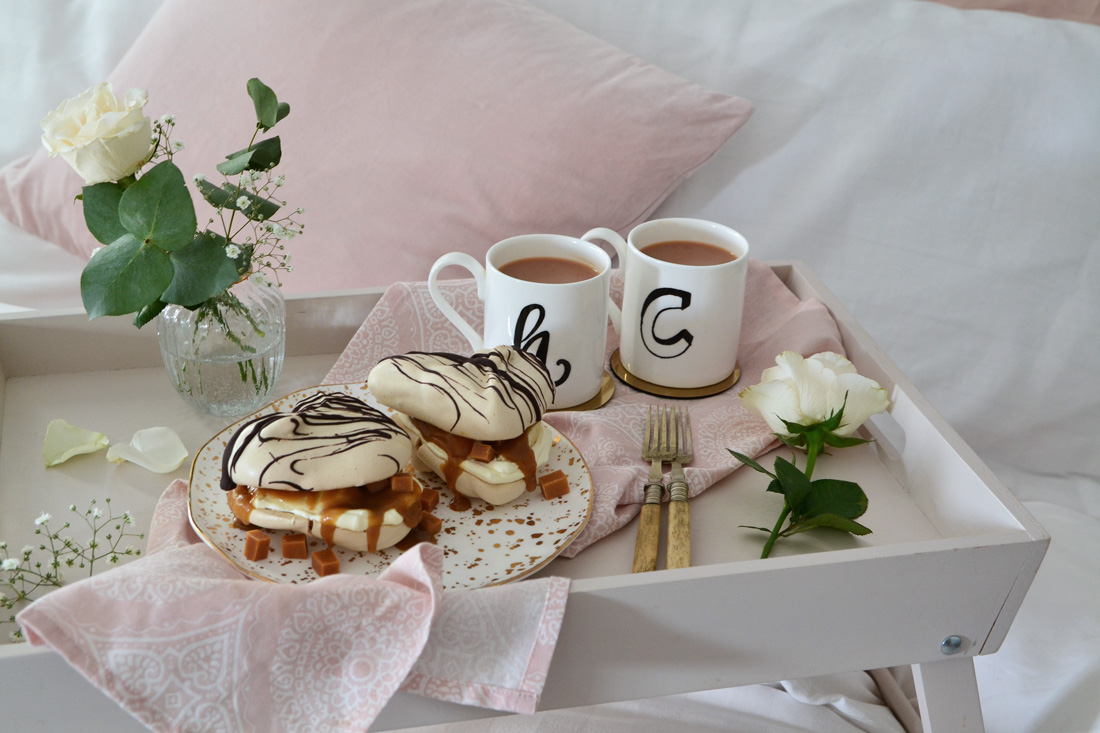 Whether it's Valentines or galantines you're celebrating this year, show them how much you love them with banoffee meringues in the cutest love heart shape for the occasion! Luscious brown sugar meringue paired with toffee, banana, dark chocolate and fudge is a total winning combo which is pretty much guaranteed to make them say 'I love you!'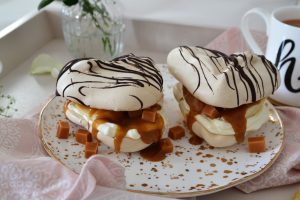 You will need:
For the Meringues:
4 large egg whites
200g soft light brown sugar
40g caster sugar
1 tsp vanilla extract
For the sauce:
180g light muscavado sugar
50g unsalted butter
300ml double cream
To fill:
200g double cream
a couple of bananas
100g soft fudge, chopped
100g dark chocolate
Step 1. Preheat the oven to 120 degrees and line two trays with baking paper. Place the egg whites in a bowl and whisk for about 5 mins in a freestanding mixer or handheld whisk, until they have become thick, then add in the vanilla and mix until combined. Combine the sugars together in a separate bowl before adding to the egg whites a spoonful at a time whilst still mixing at a medium speed.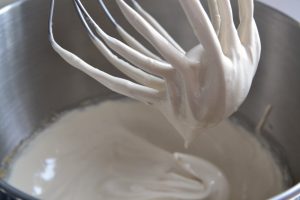 Step 2. Mix until stiff peaks are formed and the mixture is no longer wobbly. It will be a beautiful creamy butterscotchy colour ready to be spooned onto the baking trays. To make the heart shape, use a dessert spoon to place two dollops together in a V shape then use the back of the spoon to shape them into a love heart. Your meringue mixture will make ten hearts so do five on each tray ensuring they are evenly spaced out. Pop in the oven for one hour!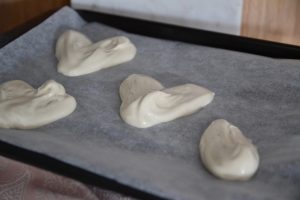 Step 3. Whilst your meringues are baking away in the oven it's time to make the toffee sauce! Place the muscavado sugar, unsalted butter and 300ml double cream into a pan on a low heat, continuously stirring until everything has melted together. Turn the heat to medium and let everything bubble for 8-10 mins, until the mixture has thickened and changed in colour. Set aside to cool, where it will also thicken further. Remove your hearts from the oven when they are ready and set aside to cool.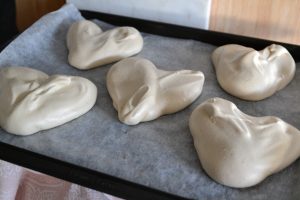 Step 4. Melt the dark chocolate in a bowl over a pan of boiling water on in short intervals in the microwave, then drizzle over half of your meringues. Half of them are going to be on the bottom so there's no need to do them all! Set aside to cool.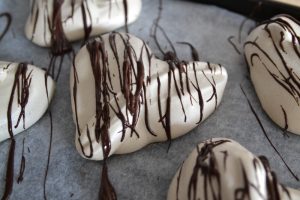 Step 5. When your meringue hearts and toffee sauce are cool and you are ready to serve your banoffee delights they are good to be assembled! With a knife, slice off any uneven bits on the base meringues so they sit flat. Mix the remaining double cream with a whisk until it has become thick then use a palette knife to spread a generous amount on top . Slice the banana up and place a couple of pieces on top of the cream before adding a good drizzle of your toffee sauce. Add some chopped fudge and finish by placing the other half of chocolate drizzled meringue on top.
And just like that you have a Valentines pud to impress that will surely have them coming back for more!!
Will you be serving up a storm for your love or putting on a party for your gal pals?!
Hollie x