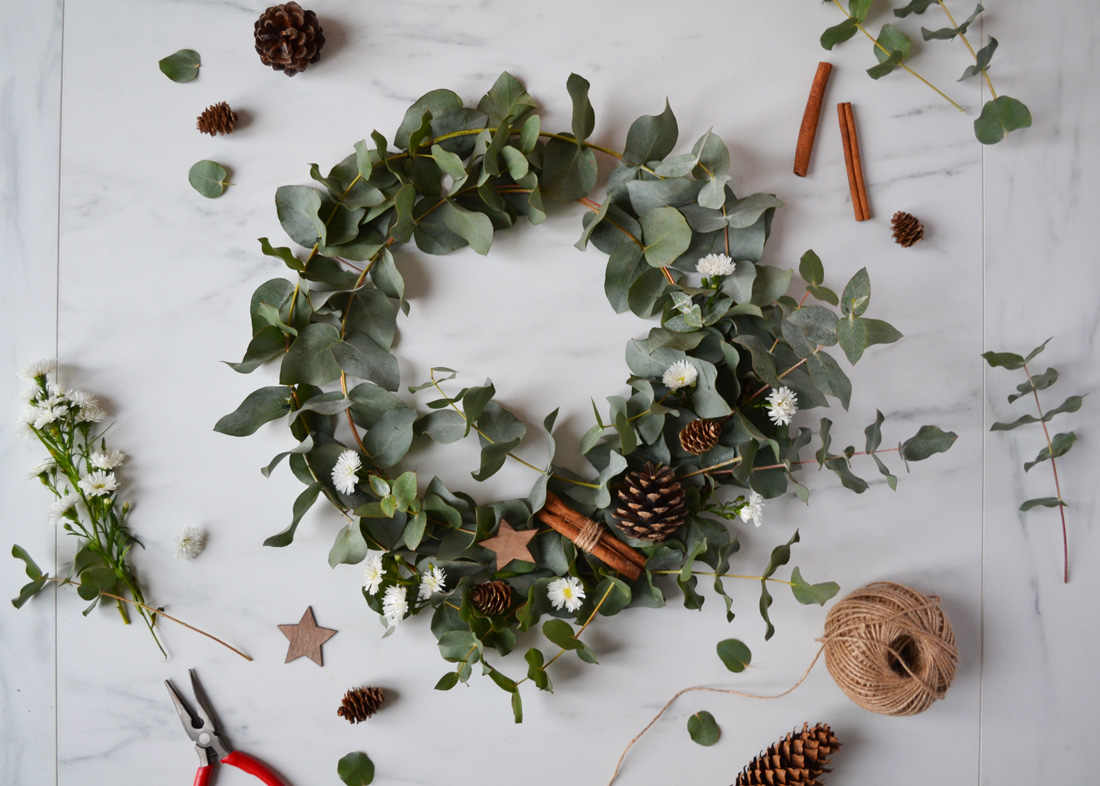 With the first snowfall of the season hitting Aberdeenshire last week, I'm deeming it time to hang a homemade winter wreath on my door! Too early for a full on Christmas one perhaps, but a simple eucalyptus wreath that gives a subtle nod to the festive season is perfect for this time of year. It amazes me how easy to make yet absolutely stunning a simple wreath is to make just by using a few materials. With some gorgeous eucalyptus as a base and some finishing touches of your choice, you will create a beautiful and unique wreath in next to no time at all!
You will need:
A wreath ring or wire hoop
A few bunches of fresh eucalyptus, I got all of this from my local florist for just £2!
Small flowers of your choice, I used some little white ones
Gardening wire or twine
A glue gun or sticky dots
Pliers or scissors
Finishing touches such as pine cones, cinnamon sticks, orange slices or decorative stars- a huge selection available at Hobbycraft or The Range!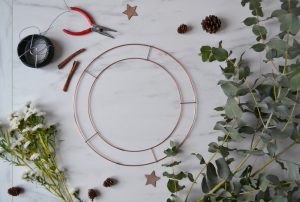 Step 1. Lay out your ring and all your materials on a large surface. I used the kitchen floor so that I had plenty of space! Use scissors or pliers to snip away some sprigs of eucalyptus from the big branches.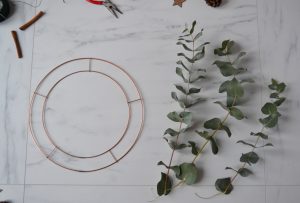 Step 2. Use a small piece of wire in the centre of the first piece of eucalyptus to attach it piece onto the ring then use a piece of wire at each end to secure it into place. Repeat this until you have covered the hoop all the way around. Since my wreath hoop has an inner and an outer ring I started on the outer one first.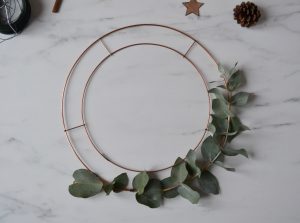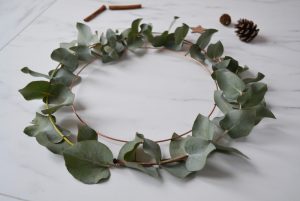 Step 3. Next, layer up the eucalyptus by repeating on the inner hoop then add more on top of the layer you already have. I then added a third layer in the bottom right corner as that is where I wanted my embellishments to go, so wanted it to be slightly thicker in that area as a good base for them.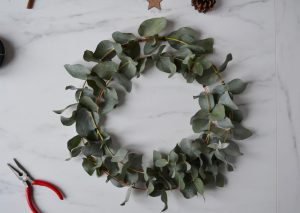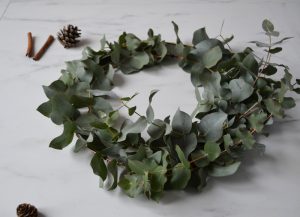 Step 4. Now that you have the base to your wreath, it's time to add in any flowers that you might be using. I picked these simple white ones up at the florist for less than £2, and think they go great with the minimal style wreath I wanted to create. Of course, if you are after something bolder then some bigger ones in a bold red would look super festive! Add them in using wire as you did with the eucalyptus, spacing them out nicely.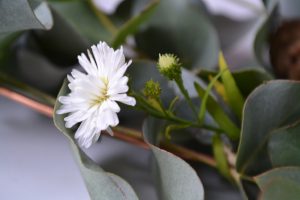 Step 5. Last is the funnest bit of all- adding on your embellishments and finishing touches! I do think minimal wreaths left just as above with the simple foliage are absolutely gorgeous, but if you are adding some embellishments then some things that work great are pinecones in various sizes, cinnamon sticks, dried orange, some holly leaves, wooden or wire star, heart and snowflake embellishments and bows. Use twine to tie two cinnamon sticks together before attaching them to your wreath, and you could even use red beads tied together with wire as holly berries. It's always a good idea to try the positioning of your chosen embellishments first by placing them on top of your wreath before you commit with the glue gun!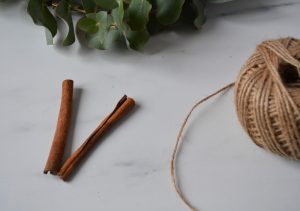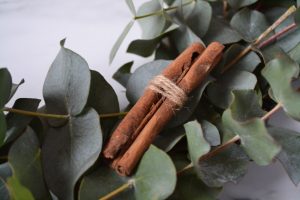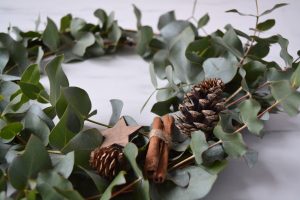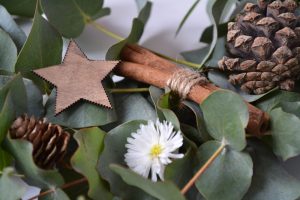 And it's as easy as that! In no time at all you have and simple and beautiful wreath to decorate your door! Not only will making it yourself will cost a fraction of the price it is to buy a fresh one, but it is so much more fun!!
Happy crafting! Hollie x