Peanut Butter Pumpkin Rocky Road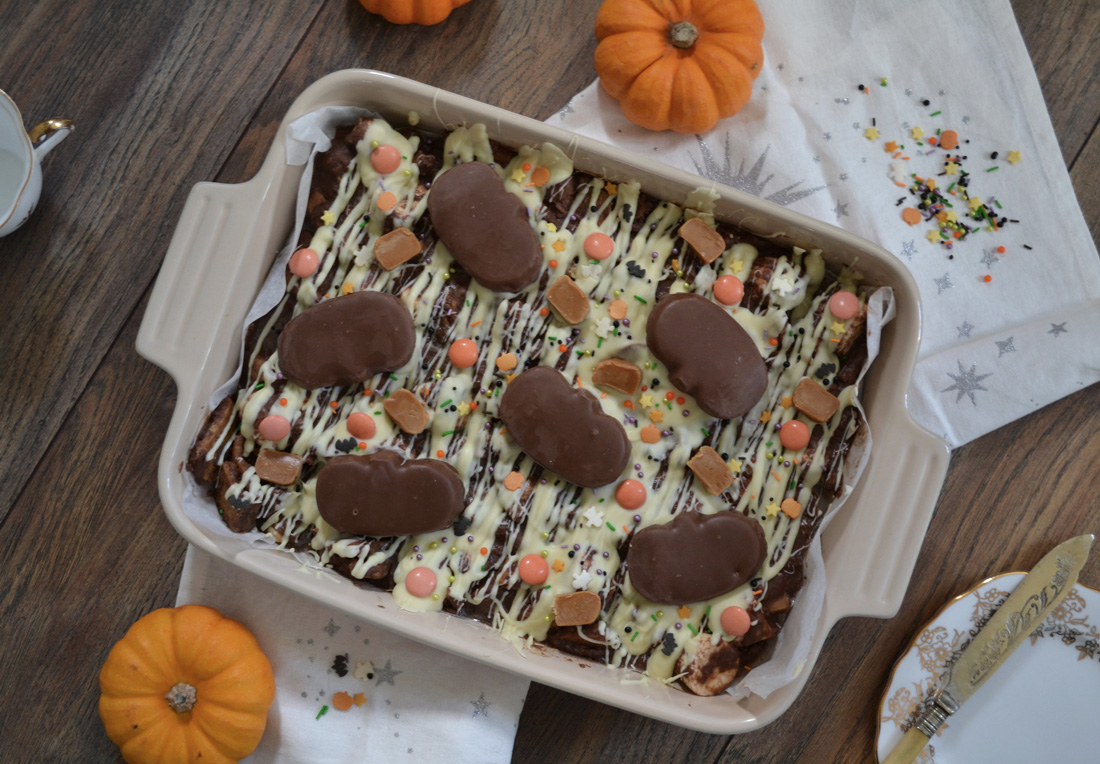 Taking advantage of those irresistible peanut butter pumpkins that are around at the moment, I've given a Halloween themed seasonal update to one of my favourite recipes ever, Rocky Road! It really is so quick and easy to make, making it perfect for any Halloween party and a total winner for getting the kids involved too! It's also the perfect way to use up some of those trick or treater goodies!
You will need:
450g milk chocolate
250g unsalted butter
100g golden syrup
200g digestive biscuits, broken into pieces
100g malteasers
150g white marshmallows
80g soft fudge, chopped
80g peanut butter cups, chopped
To decorate:
200g white chocolate
about 6 Reese's Peanut Butter Pumpkins
a few pieces of chopped fudge
orange smarties
Halloween themed sprinkles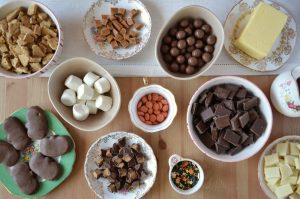 Step 1. In a large pan, place the butter, golden syrup and butter on the lowest heat and stir constantly until everything has melted together. Remove the mixture from the heat immediately.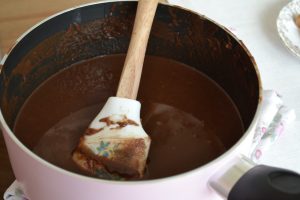 Step 2. Carefully add the broken biscuits to the mixture and stir through until they are all covered with it, then add the marshmallows, fudge, maltasers and Reese's cups, mixing well after each addition. Ensure everything is coated with the chocolate mixture then carefully pour it into a greaseproof paper lined baking tray or dish. Use a large spoon to spread it out evenly, pressing the mixture into the corners. Pop in the fridge for around an hour to set.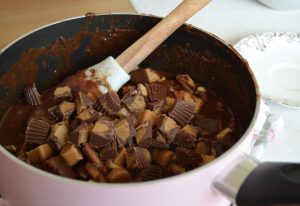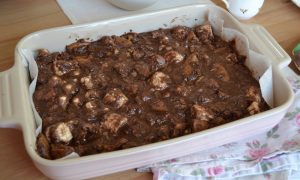 Step 3. Remove the set rocky road from the fridge and get ready to decorate! Break the white chocolate up into a microwavable bowl and melt it in 20 second intervals, stirring in between. Once it has completely melted and is nice and smooth use a spoon to drizzle it across your rocky road.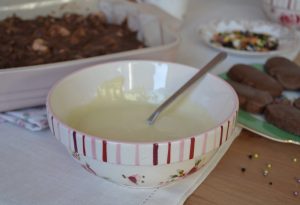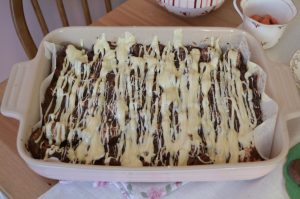 Step 4. Use the spoon to put a dod of white chocolate on the back of each peanut butter pumpkin before sticking it down onto the rocky road. This will help keep it in place.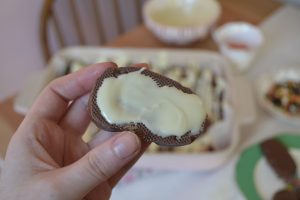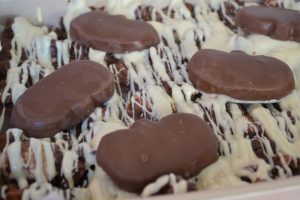 Step 5. Next, add your pieces of fudge and orange smarties, spacing them out evenly in between the pumpkins. Finish with a generous scatter of Halloween sprinkles! Pop back in the fridge for it to set for an hour or so before slicing it up.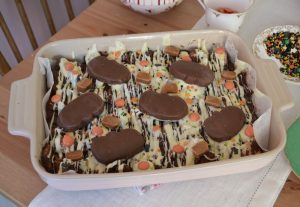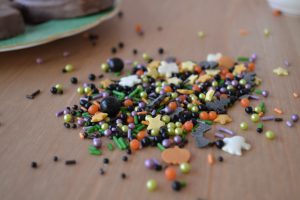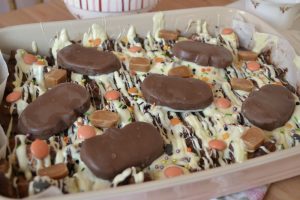 You could bag up your rocky road to give as an extra special guising treat, or snuggle up with a slice to the glow of candle lit pumpkins and a spooky film!
Happy Halloween!!
Hollie x