Beetroot and Chocolate Cupcakes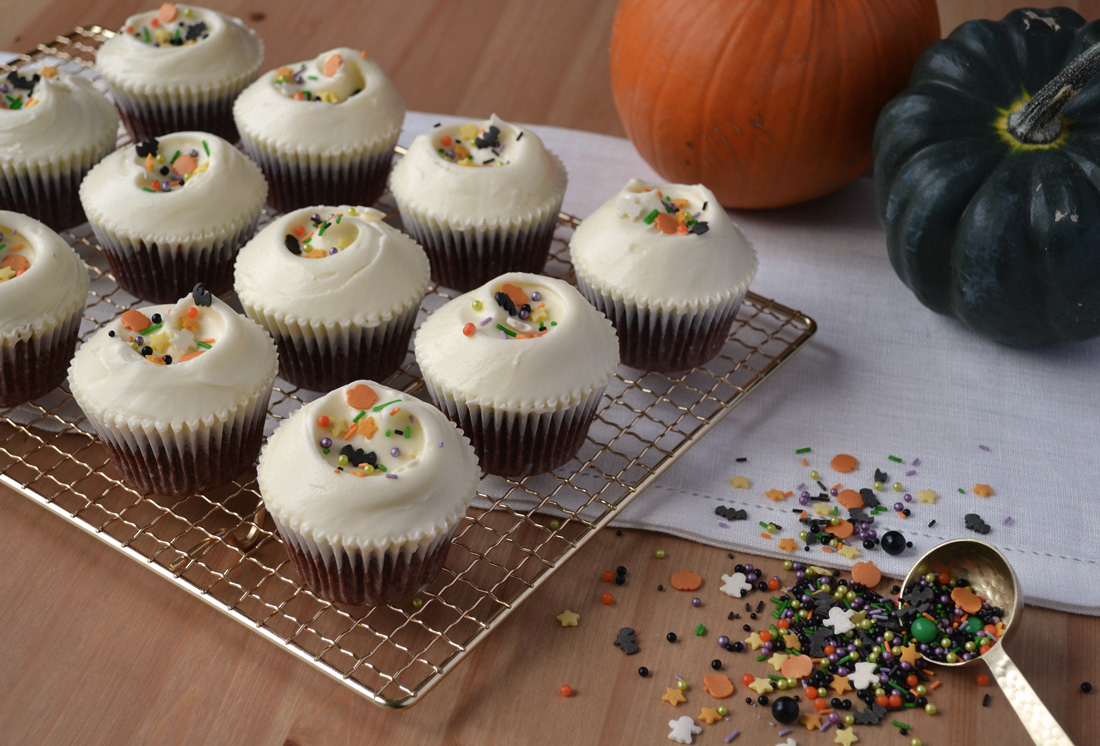 This week in my organic fruit and veg delivery I received some lovely big beetroots and instantly knew I wanted to bake them into something wonderful. This beetroot and chocolate cupcake recipe is from my all time favourite baking book Cake Days by the Hummingbird Bakery, and is a recipe I had never got round to making 
until now as I thought baking with fresh beetroot would be complicated, but it was an absolute breeze and well worth the little bit of extra work! The natural colour of the beetroot is so gorgeously rich and perfect paired with the tangy cream cheese frosting topped with these amazing Halloween sprinkles
!
You will need:
350g fresh beetroot
200g plain flour
250g caster sugar
200ml sunflower oil
50g cocoa powder
1 1/2 teaspoon of baking powder
1/2 teaspoon of ground cinnamon
1/2 teaspoon of salt
1 teaspoon of vanilla essence
3 large eggs
For the frosting:
600g icing sugar
250g full fat cream cheese
100g unsalted butter
Halloween Sprinkles to decorate
Step 1. Pre heat your oven to 190 degrees and line a muffin tin with cases. Wrap each individual beetroot in a piece of silver foil and place them in a roasting tin. Place in the oven for about an hour, they will be ready when you can easily slide a knife through the centre so carefully remove the foil to check. Smaller sized beetroots will cook faster than the larger ones so keep a close eye as you may need to vary the time. Once ready remove them from the oven and set aside to cool.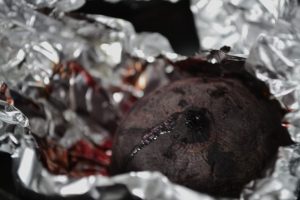 Step 2. Sift the flour, cocoa powder, baking powder, cinnamon and salt together into a bowl then add in the caster sugar and set aside.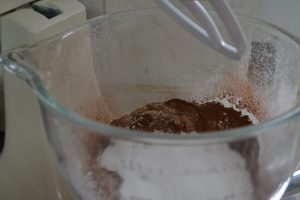 Step 3. When your beetroot is cool enough to handle, use your fingers to peel of the skin and carefully chop away any hard roots. Chop into pieces and weigh out 300g to use. Place the prepared beetroot into a food processor or blender and blitz until you have a smooth puree. Now add the eggs, giving another blitz after each one has been added.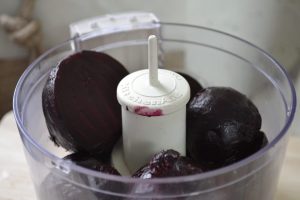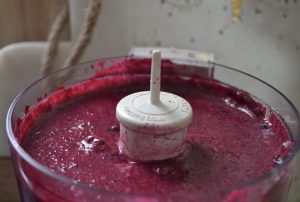 Step 4. Place the sunflower oil and vanilla essence into a large bowl and pour in your beetroot mixture a little at a time, giving a good mix with a wooden spoon after each addition until everything is fully incorporated.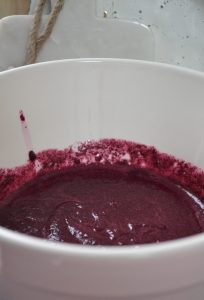 Step 5. Using a freestanding mixer or handheld whisk, pour the beetroot mixture into the dry ingredients on a slow speed until everything is combined into a smooth batter. Be careful not to over mix or your batter will become dense! Scoop evenly into the cases and pop in the oven for around 20 mins, until a skewer test comes out clean and the top is springy.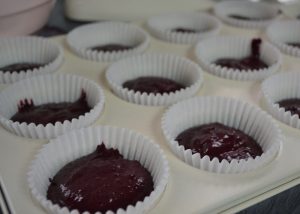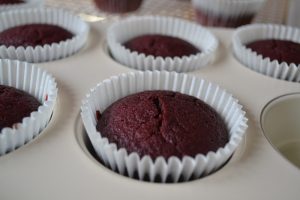 Step 6. In a freestanding mixer or with a handheld whisk, mix the butter and sifted icing sugar together on a low speed until they resemble fine breadcrumbs. Add the cream cheese and turn the speed to high until the frosting is smooth and fluffy.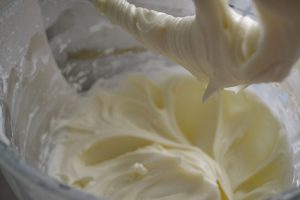 Step 7. Use a palette knife to spread on a generous spoonful of frosting on to each cupcake then give it a good swirl, or pipe on with a nozzle if you prefer. Finish with a dusting of Halloween sprinkles!
Happy baking, and Happy Halloween!
Hollie x