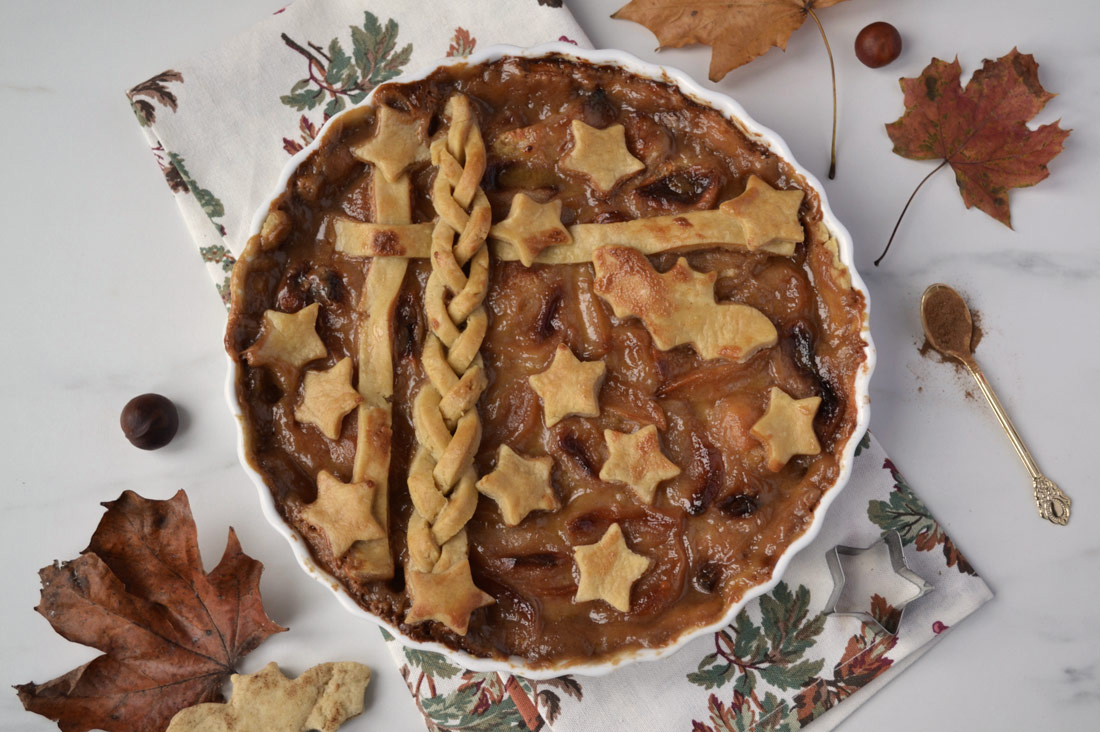 Nothing says Halloween like toffee apples, a seasonal treat that is also incredible in the form of a warming and delicious Autumnal dessert! I received some gorgeous cooking apples in this weeks organic fruit and veg box and couldn't wait to bake them into something delicious, with a nod to Halloween of course! The silky toffee sauce and fresh apples are a match made in heaven, add some buttery pastry into the mix and it's the perfect pudding for this time of year to curl up with after a day of autumn adventures in the countryside!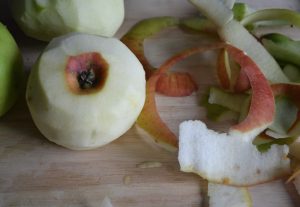 You will need:
For the pastry:
450g plain flour
200g cold butter
pinch of salt
a small glass of cold water
1 egg
For the Filling:
300ml double cream
200g light muscavado sugar
50g unsalted butter
about 700g cooking apples
1 teaspoon cinnamon
Step 1. Preheat the oven to 190 degrees. Sift half the flour into a large bowl. Chop the butter into small cubes then add exactly half into your sifted flour, rubbing with your fingers until the mixture resembles fine breadcrumbs. Add a pinch of salt then add cold water a tablespoon at a time mixing with your hands until a dough is formed. Gently knead until the dough can be rolled into a ball, then wrap it in some clingfilm and place in the fridge to rest. This is for your pie base, so repeat this process with the remaining pasty ingredients for your pie decoration then pop it in the fridge in a separate ball wrapped in clingfilm beside your first one.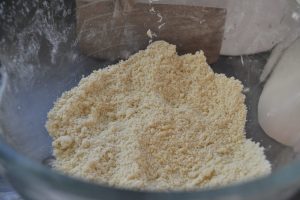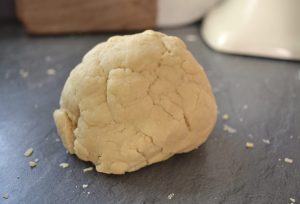 Step 2. Whilst your dough is resting it's time to make the toffee sauce. In a saucepan on the lowest heat, place the unsalted butter, muscavado sugar and double cream until just melted together stirring occasionally. Once it is combined and smooth turn the heat up and let the mixture boil, bubbling for 10 mins then remove it from the heat and set it aside to cool.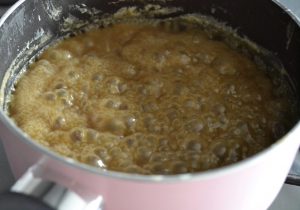 Step 3. Remove your first ball of pastry dough from the fridge. Lightly flour a clean surface, then use your hands to gently knead the dough until it becomes workable. Use a rolling pin to roll it out flat and evenly then place it into a pie dish or tin, using a pallate knife to help lift it if needed. Use your fingers to work the pastry into the corners of the dish bringing it right up the sides, carefully pulling off any excess and using it to patch up any pieces of the crust that may need it. Use a fork to gently mark the bottom of the pastry.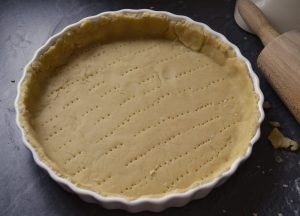 Step 4. Cover the pie crust with baking paper then fill with ceramic baking beans or lentils. Blind bake for 15mins, then remove from the oven.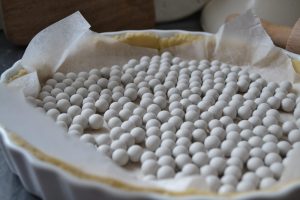 Step 5. While your pie crust is blind baking in the oven, peel and core the apples then chop them into small slices no smaller than about an inch tall. Place the apple pieces in a bowl and add the cinnamon, then give a toss with your hands until the cinnamon is evenly distributed and covering all the apples. Now pour your cooled toffee sauce into the apples and stir until everything is well combined.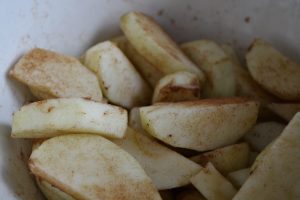 Step 6. Remove the baking beans and paper from your pie crust when it is cool enough to handle and carefully pour the toffee apple pie filling into the pie crust. Then set aside while you make your decorative pie top!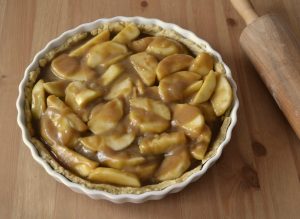 Step 7. Remove your second ball of pastry from the fridge and gently knead with your hands before rolling it out thin and evenly. Use some halloween themed cookie cutters to get creative and make a fun topping for your toffee apple pie! I also added a simple pastry pleat by braiding three thin pieces of pastry cut with a rolling pizza slicer. Sit these on top of your pie filling then whisk up the egg and brush a light layer on top of each pastry piece. This is what gives it a nice golden colour when baked.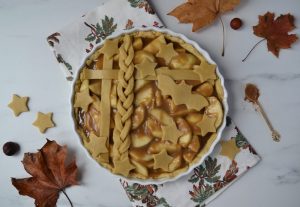 Bake in the oven for around 40mins, until the apples are soft and the sauce has darkened. Remove from the oven and set aside to cool before slicing up to serve. Great on its own or with a scoop of vanilla ice cream!
How will you decorate yours?
Hollie x