Salted Caramel and Peanut Brownies
What dad doesn't love a home baked gift? Throw in some salted caramel and peanuts and you've got the perfect Fathers Day bake to give him this Sunday. Gooey chocolate brownies with a hidden layer of salted caramel, these are so moreish and surprisingly easy to whip up!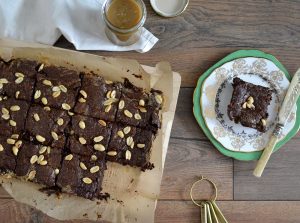 You will need:
250g good quality dark chocolate such as Green & Blacks
250g unsalted butter
300g golden caster sugar
4 free range eggs
80g cocoa powder
70g plain flour
1 teaspoon baking powder
a handful of salted peanuts
For the salted caramel sauce:
300ml double cream
180g soft light brown sugar
50g unsalted butter
1/2 teaspoon sea salt flakes such as Isle of Skye
Step 1. Start by making your salted caramel sauce. In a pot, place the soft light brown sugar, double cream, unsalted butter and sea salt flakes. Set on a low heat continuously stirring until the sugar and butter has melted. Turn the heat up and bring to a boil, letting it bubble for 10 mins until it resembles a sauce. Don't worry if it still looks a little runny as it will thicken as it cools! Set aside to cool.
Step 2. Pre heat the oven to 180 degrees and line a tin with baking paper (my tin was 27×18). In a pot on the lowest heat, melt together the dark chocolate and butter continuously stirring until smooth and silky. Once fully melted set aside.
Step 3. In a separate bowl sift together the flour, cocoa powder, baking powder and sugar. Carefully pour the melted chocolate mixture into the dry ingredients then carefully fold together until fully combined and smooth.
Step 4. Crack your 4 eggs into a jug, giving them a light beat with a fork. Carefully pour the eggs into the batter, again folding together until combined and completely smooth.
Step 5. Spoon half of the brownie mixture into your lined baking tin then smooth over the top with the back of a spoon or spatula. Take your Salted caramel sauce from earlier and pour a generous layer over the top of the brownie mixture or take a spoon and dollop it all over. It doesn't matter if this is a bit uneven as it's hidden anyway! If you have leftover sauce pop it in a jar and it will keep in the fridge for up to two weeks, yum!
Step 6. Carefully spoon the rest on the brownie mixture on top of your salted caramel layer. Use a spoon or spatula to smooth the top again, and don't worry if not all the sauce is hidden as I think the bits escaping the sides just add to it! Sprinkle with some peanuts on the top and pop in the oven for 25-30 mins. Unlike cake, a skewer won't come out clear as you want a gooey middle! So bake until the top is evenly baked and when shaken it doesn't look too wobbly in the middle of the tin.
Step 7. Once removed from the oven leave until they are completely cooled before taking out of the tin. Chop up the brownies and gift them up in a box or serve on a board or tray for the loveliest Fathers Day treat for your Dad!
Happy baking and Happy Fathers Day to all the amazing Dads out there!
Hollie x