It finally feels like Spring has sprung, wouldn't you agree? The lighter nights are here and we have had some lovely sunny days this month- long may they last! So far this Spring has been kind to us! I love this time of year, and always feel so inspired with the prospect of summer just around the corner, Easter on its way and daffodils on practically every street.
It's always a busy time of year for Hollie Berries ahead of Easter, getting lots of little handmade bunnies ready for their new homes and creating new spring makes. The fresh florals and pastel Spring colours are my absolute favourite to work with which is a contributing factor in why I'm so inspired at this time of year!
As much as I have been busy working away my sewing room, March has also been filled with family time which can be rare as my parents and grandparents are based in my hometown of Dunoon, Argyll- down on the west coast of Scotland and about a 5 hour drive away. Mum, Dad and their beautiful big pup Dakota came up to Aberdeen to spend the weekend with us at the start of the month which was filled with long walks, adventures on the beach and good food. A perfect weekend in my books!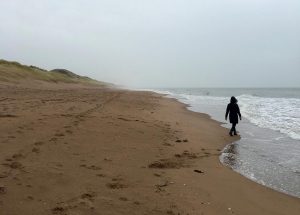 At the end of the month I then took some time off and headed down the road to Dunoon for some Mothers Day celebrations, which also happened to tie in with my Dads birthday weekend- ideal! It's always lovely to visit the grandparents and catch up with friends back there. My Dad and I managed to get a hike in one day too. We couldn't have picked a better day for it, the sun was out and there was barely a breeze in the air! Argyll is such a beautiful part of Scotland and I love going on adventures and soaking in those dreamy west coast scenes. On the way back up to Aberdeen I stopped off in Glasgow for a couple of days having lovely catch up's with my friends and sister, and taking advantage of the shops and the well missed Glasgow food scene!
March has also been a month of D.I.Y and home improvements! If you follow me on Instagram (@hollie_berries_) you'll already know that I'm always doing something to the house! This month I D.I.Y'd some new kitchen shelves that I'm absolutely chuffed to bits with! See the details here! We also painted our bedroom and I've been finishing off the decor in my work room, sourcing lovely bits for hanging on my walls. It's almost complete and I can't wait to share it once it is! The next project on my list is PINK KITCHEN WALL! Can you tell how excited I am about that one?! I've been pinning like a mad women for inspo all month!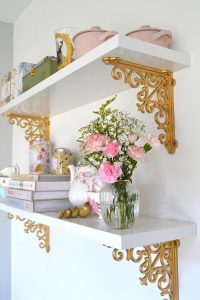 All in all, a pretty good month! Now I'm happily welcoming in April for more Spring baking, D.I.Y'ing, crafting and adventuring!
What have been your March highlights?
Hollie x